Wells capping sub prime autos, bank margins and income, personal income and spending, ISM manufacturing, construction spending
Wells pulling back some on sub prime auto loans:
And banks in general fighting this: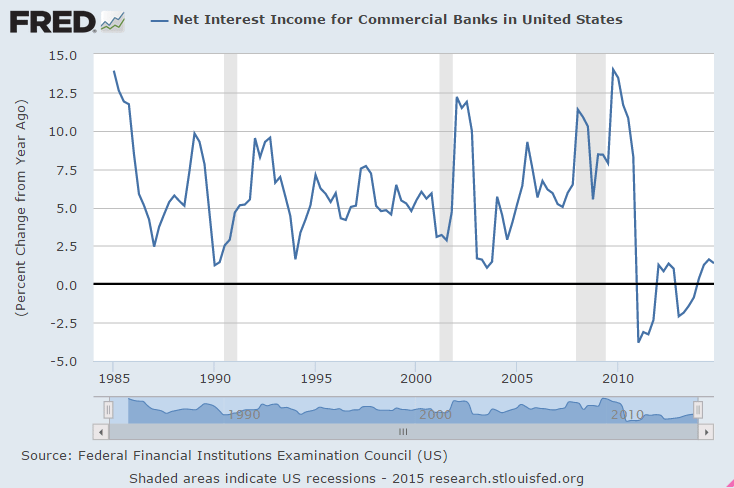 A bit worse than expected. Fewer dollars spent, but more 'real things' purchased due to lower prices, but any calculation of a deflator with the large drop in oil prices is problematic:
Personal Income and Outlays

Highlights
In January, personal income was moderately healthy as was spending after price effects are discounted. Personal income posted a gain of 0.3 percent after growing 0.3 percent in December. January fell short of analysts' forecast for a 0.4 percent boost. The wages & salaries component jumped 0.6 percent, following a rise of 0.1 percent the prior month.

Personal spending decreased 0.2 percent, following a decline of 0.3 percent in December. Durables slipped 0.1 percent, following a 1.4 percent drop in December-due to sluggish auto sales. Nondurables plunged 2.2 percent in January after decreasing 1.4 percent the month before—with lower gasoline prices pulling this component down. Services advanced 0.5 percent after a 0.2 percent gain in December.

But weakness in current dollar spending was price related as chain-weighted (price adjusted) personal spending came in at 0.3 percent, following a 0.1 percent dip in December. January actually is a good start for first quarter GDP in the PCE component.

Prices at the headline level fell again, down 0.5 percent in January after a 0.2 percent dip the month before. The core PCE price index firmed to up 0.1 percent from flat in December. On a year-ago basis, headline inflation eased to 0.2 percent from 0.8 percent in December. The year-ago core rate was steady at 1.3 percent.

Income growth was moderately healthy in January. The consumer sector has fuel for spending-especially in the important wages & salaries component. Inflation is low and well below the Fed's target of 2 percent year-ago inflation, meaning the Fed likely will stick with no rate hike before June.
From the GDP report, through Q4:

The monthly number shows January 2015 did better than January 2014 when the winter was particularly cold: