Trade, Redbook retail sales, PMI services, ISM services
As previously discussed, the US bill for oil imports went up:
Highlights

Fourth-quarter net exports get off to a weak start as October's trade deficit, at $48.7 billion, comes in much deeper than expected and well beyond September's revised $44.9 billion. Exports, at $195.9 billion in the month, failed to improve in the while imports, at $244.6 billion, rose a steep 1.6 percent. Price effects for oil, up more than $2 to $47.26 per barrel, are to blame for much of the rise in imports inflating costs of industrial supplies including crude where the deficit rose $1.5 billion to $10.7 billion, but consumer goods are also to blame, imports of which rose $800 million in the month to $50.0 billion.

Exports of capital goods are the largest category on the export side and they fell back $1.2 billion to $43.9 billion and reflect a $1.1 billion drop in aircraft where strength in orders, however, points to better aircraft exports to come. Exports for both vehicles, at $12.6 billion, and consumer goods, at $16.3 billion, both declined.

Country data show the monthly gap with China deepening $600 million to $35.2 billion and with Japan by $1.6 billion to $6.4 billion. The EU gap widened by $2.3 billion to $13.7 billion. The gap with Mexico rose $900 million to $6.6 billion and Canada $1.5 billion deeper at $1.8 billion.

Today's report is not favorable for fourth-quarter GDP but doesn't derail at all what has been an ongoing run of mostly solid economic results.
Looks like things are settling down: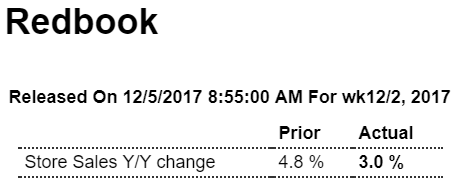 Highlights

Same store sales were up 3.0 percent year-on-year in the December 2 week, decelerating by a steep 1.5 percentage points from the prior week's pace. Month-to-date sales versus the previous month were down 0.9 percent, 0.7 percentage points weaker than last week's reading, while the gain in full month year-on-year sales shed 0.5 percentage points to 3.0 percent. The week's sharp setback from the strongest reading in 3 years registered in the prior week by retailers in Redbook's same-store sample may signal more moderate growth in ex-auto ex-gas retail sales during the key Christmas sales period.
The surveys are starting to come off their trumped up levels:
Markit PMI services: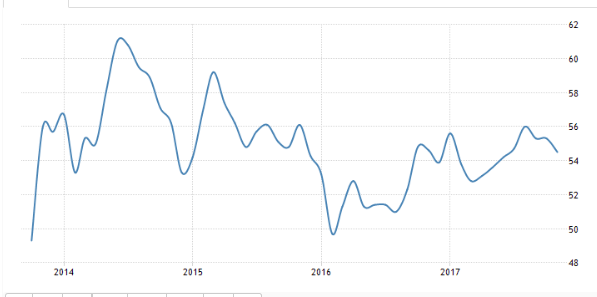 ISM non manufacturing: