As the chart shows, year over year growth has gone to near 0 since the election, and the hurricane replacement effect has since dissipated:
Highlights

A big upward revision to core capital goods highlights today's factory orders report which closes the book on what was a mixed October for manufacturing. The month's 0.1 percent decline, which is better than expected and actually hits Econoday's high estimate, reflects a 33 percent downswing for commercial aircraft orders that follows, however, a very strong recent run and looks to build again following Boeing's success at November's Dubai air show.

The split between the report's two main components shows a 0.7 percent gain for nondurable goods — the new data in today's report where strength is tied to petroleum and coal — and a 0.8 percent dip for durable orders which is 4 tenths improved from the advance report for this component. And driving the upward revision for durables is a major upward revision to October core capital goods (nondefense ex-aircraft) which is now up 0.3 percent from the initial 0.5 percent decline. This extends what is a very strong run for a component that offers leading indications on business investment.

Shipments of core capital goods are also revised higher, up an additional 2 tenths to 1.1 percent to extend what is also an impressive run, one that feeds directly into nonresidential fixed investment and marks a strong early plus for fourth-quarter GDP. Other readings include a 0.2 percent gain for inventories and a 0.6 percent gain for total shipments, a mismatch pointing to the need for restocking but not enough to change the inventory-to-sales ratio which holds at 1.37. Not a plus in the report is no change in unfilled orders which have yet to get going.

A plus in the report is a sharp 1.3 percent rise in vehicle orders as the auto sector responds to the hurricane-replacement sales surge of September and October. Looking past the headline, this report is very solid and points squarely at a rising contribution from the factory sector.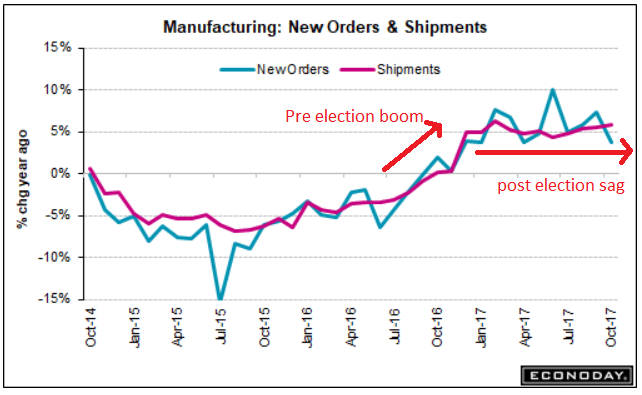 From this longer view I don't see much to get excited about here, and the numbers are not adjusted for inflation:

And previously released credit aggregates, vehicle sales, and building permits are saying growth has already ended:




From Challenger Gray and Christmas

Higher corporate profits, low unemployment, and high economic confidence among employers is not translating to more cash-based year-end bonuses.
SINGAPORE, Dec 1 (Reuters) — Top oil exporter Saudi Arabia is expected to raise the January price for its flagship Arab Light crude in Asia to the highest in more than three years to track a stronger Dubai benchmark, trade sources said on Friday.

Robust demand in Asia and continuing supply cuts by the Organization of the Petroleum Exporting Countries (OPEC) and Russia are rebalancing global oil markets. The producers agreed on Thursday to extend those supply cuts to end-2018, a decision that pushed Brent above $64 a short time later.

A price hike would track a wider price spread between prompt and third month cash Dubai that rose 31 cents last month from October, trade sources said. Front-month Dubai is higher than those in future months, indicating strong demand for prompt oil.

The survey respondents also expect an increase of 50-60 cents in Arab Extra Light's OSP in January after naphtha margins surged last month to the highest since early 2016.

January price hikes for Arab Medium and Heavy grades were likely to be smaller than those for light grades as fuel oil cracks weakened last month, the respondents said.

One of the four respondents expected a price cut for Arab Heavy crude.

Saudi crude OSPs are usually released around the fifth of each month, and set the trend for Iranian, Kuwaiti and Iraqi prices, affecting more than 12 million barrels per day (bpd) of crude bound for Asia.

State oil giant Saudi Aramco sets its crude prices based on recommendations from customers and after calculating the change in the value of its oil over the past month, based on yields and product prices.

Saudi Aramco officials as a matter of policy do not comment on the kingdom's monthly OSPs.

Below are expected Saudi prices for January (in $/bbl against the Oman/Dubai average):

DEC Change est.JAN OSP

Arab Extra Light +2.45 +0.50/+0.60 +2.95/+3.05
Arab Light +1.25 +0.25/+0.40 +1.50/+1.65
Arab Medium +0.00 +0.10/+0.35 +0.10/+0.35
Arab Heavy -1.15 -0.15/+0.30 -1.30/-0.85