By Abinaya Vijayaraghavan

June 23 (Reuters) — U.S. companies' borrowing to spend on capital investment fell in May, the Equipment Leasing and Finance Association (ELFA) said.

Companies signed up for $6.9 billion in new loans, leases and lines of credit last month, down 8 percent from a year earlier. Their borrowing fell 14 percent from April.

"The small decline in new business volume makes the case for a slow recovery in certain sectors of the economy in which equipment financing plays an important role," ELFA Chief Executive William Sutton said in a statement.

Washington-based ELFA, a trade association that reports economic activity for the $827 billion equipment finance sector, said credit approvals totaled 76.1 percent in May, down from 77.4 percent in April.

ELFA's leasing and finance index measures the volume of commercial equipment financed in the United States. It is designed to complement the U.S. Commerce Department's durable goods orders report, which it typically precedes by a day.

ELFA's index is based on a survey of 25 members that include Bank of America Corp(BAC.N), BB&T Corp (BBT.N), CIT Group Inc (CIT.N) and the financing affiliates or subsidiaries of Caterpillar Inc (CAT.N), Deere & Co (DE.N), Verizon Communications Inc(VZ.N), Siemens AG (SIEGn.DE), Canon Inc (7751.T) and Volvo AB (VOLVb.ST).

The Equipment Leasing & Finance Foundation, ELFA's non-profit affiliate, said its confidence index fell to 61.4 in June from 65.4 in May.

A reading of above 50 indicates a positive outlook.
More evidence home price increases have slowed, as 'liquidation supply shock' that began in 2009 winds down: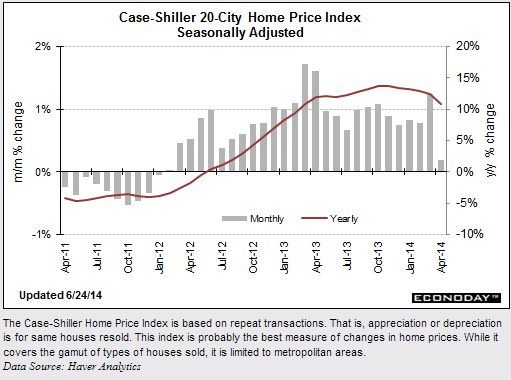 Full size image
Also this morning the Census Bureau reported that new home sales were at a seasonally adjusted annual rate (SAAR) of 504 thousand in May. That is the highest level since May 2008. As usual, I don't read too much into any one report. In fact, through May this year, sales were 196,000, Not seasonally adjusted (NSA) – only up 2% compared to the same period in 2013 – not much of an increase.
Richmond Fed Manufacturing Index


Highlights
Activity may be slowing this month in the Richmond Fed's manufacturing district but not new orders. The headline index slowed 4 points to a reading of 3 with shipments and employment both slowing significantly. But the pace of new orders actually improved slightly, up 1 point to 4. The Richmond Fed has been showing less of a post-winter bounce than other regional reports, especially Empire State and Philly Fed.
New home sales up more than expected, but the 3 month average looks tame and in any case if they continue to drift higher at this the pace of the last couple of years it will only take another 15 or 20 years or so to get back to prior cycle levels. When we had a lot fewer people. And, like last month, revised down, it will be revised next month:
Full size image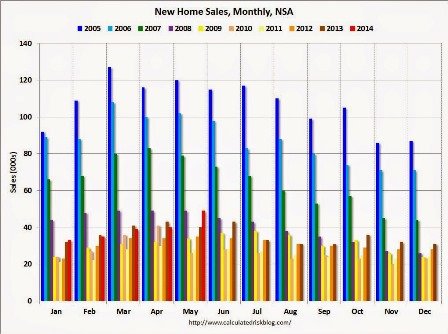 Full size image
Redbook Sales monthly Y/Y:

Full size image