Gasoline consumption up year over year
All the way to the bottom of the recession and gasoline demand up year over year.
The sell off in price still looks to me like it was all due to the Great Mike Masters Inventory Liquidation triggered by his efforts last summer.
Prices are now heading up with inventories in short supply, a trillion dollar fiscal adjustment in the pipeline, and no policy to directly reduce fuel consumption.
Feb 25 (Xinhua) — Crude prices jumped Wednesday after a U.S. government report showing demand for gasoline is on the rise.

The Energy Department's Energy Information Administration report said crude inventories rose by 700,000 barrels to 351.3 million barrels. Analysts expected crude stocks would grow by 2.25 million barrels.

Gasoline inventories slipped by 3.4 million barrels, or 1.6 percent, to 215.3 million barrels, which is 7.6 percent below year-ago levels.

Meanwhile, gasoline demand was up 1.7 percent, compared with the same period last year to an average of 9 million barrels per day.

Light, sweet crude for April delivery was up 2.54 U.S. dollars to settle at 42.50 dollars on the New York Mercantile Exchange.

Brent prices rose 1.79 dollars to settle at 44.29 dollars a barrel on the ICE Futures exchange in London.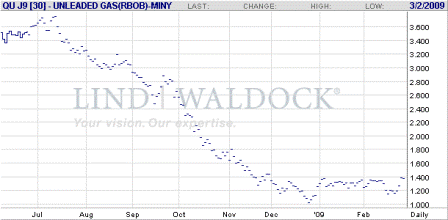 [top]