This is before the latest round of tariffs which will only make things worse:
Up a bit for the month, but still working it's way lower. Also, the chart is not inflation adjusted, so in real terms it's far below prior 'peaks':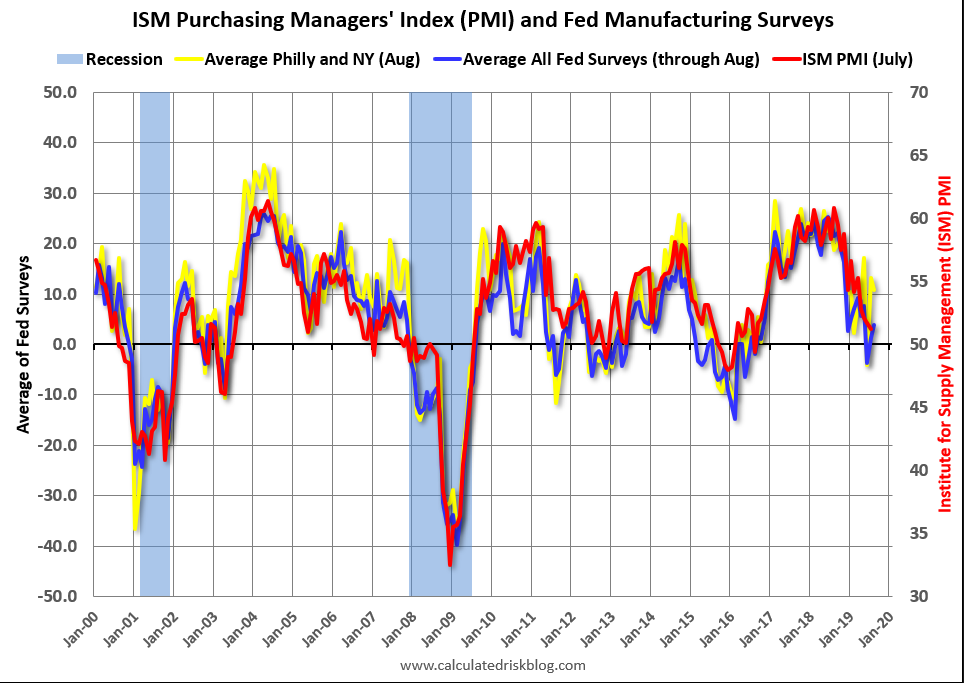 Growth of home prices is slowing:

Speaks for itself:
Highlights

Deep contraction in production pulled down the national activity index in July to minus 0.36 versus an upward revised 0.03 in June in what now is a rare gain for this index. The 3-month average, at minus 0.14 in July, has fallen for six straight months in a row and offers a counterpoint to GDP data which have been very solid this year.

Production-related indicators, reflecting 0.2 and 0.4 percent declines in industrial production and manufacturing production, pulled the index down by 0.25 points in July. These declines speak to the effects of slowing global demand and the slowdown in export demand. Personal consumption & housing was the next greatest negative at minus 0.06 points with sales, orders & inventories close behind at minus 0.05 points. Employment is another major component and it failed to provide positive support, down 0.01 in the month and reflecting a still solid but slower rate of payroll growth in the month.
This is pretty bad on Dudley's part:
Former New York Fed President Bill Dudley encouraged his one-time colleagues not to help Trump's "disastrous path of trade war escalation."
He even suggested, in a Bloomberg editorial, that the Fed try to influence the 2020 election by not cutting rates further.
"After all, Trump's reelection arguably presents a threat to the U.S. and global economy, to the Fed's independence and its ability to achieve its employment and inflation objectives," Dudley wrote.
Use presumed leverage like a 6 year old and you treated like a 6 year old…
"Dealing with the European Union is very difficult; they drive a high bargain," Trump told reporters at the White House on Tuesday. "We have all the cards in this country because all we have to do is tax their cars and they'd give us anything we wanted because they send millions of Mercedes over. They send millions of BMWs over."