Bankruptcy cuts, Wholesale trade, Turkey
In the first seven months of the year, U.S.-based companies announced 42,937 job cuts due to bankruptcy, up 40% from the same period last year and nearly 20% higher than all bankruptcy-related job losses last year, a report released Tuesday concluded. Despite record-low unemployment, bankruptcy filings have not claimed this many jobs since the Great Recession.
"It is the highest seven-month total since 2009 when 50,258 cuts due to bankruptcy were announced," according to the report by outplacement and business coaching firm Challenger, Gray & Christmas. "In fact, it is higher than the annual totals for bankruptcy cuts every year since 2009."
Not good, sales in contraction:
Highlights

Inventories in the wholesale sector were unchanged in the second estimate, down from a 0.2 percent build in the first estimate (which will be a small negative for second-quarter GDP revisions) and compared to a 0.4 percent build in May. Inventories may be steady but not sales which fell 0.3 percent in the wholesale sector during June after a 0.6 percent decline in May. Year-on-year, sales in June were down 0.2 percent versus a 7.6 percent rise in inventories which hints at a slowing inventory build ahead. Inventories of autos did fall 0.2 percent in June but were still up 17.4 percent on the year. This will likely be a negative for near-term auto production.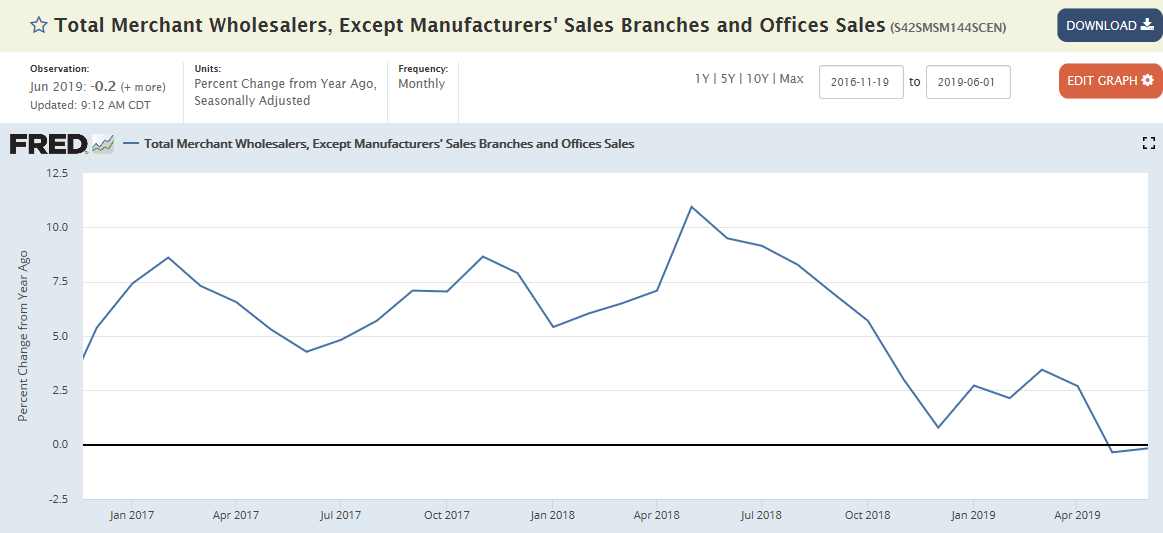 Inventories excessive and rising as sales slow:
Now that the 'counter-intuitive' rate cut worked in Erdogan's favor, good chance more to come?
The Turkish lira rose to 5.484 against the US dollar on Thursday, the highest since early April