Things are starting to add up better with this jump in consumer borrowing. With real disposable personal income growth near 0, and spending growing at just over 2.5% through November, it's now looking like consumers 'dipped into savings' by running up their credit card balances which tends to be followed by reductions in spending:

Highlights

Consumers were heating up their credit cards in November as revolving credit, up $11.2 billion in the month, made a sizable contribution to total credit outstanding which rose $28 billion for a 17-year high. The rise in revolving credit is the second largest of the ongoing expansion and perhaps indicates less reluctance among the nation's consumers to run up their credit cards. And though it hints at momentum going into December's shopping, it may also revive talk of slackening credit standards. Nonrevolving credit, where auto financing and student loans are tracked, rose $16.8 billion which is also a sharp rise.
Total consumer credit:

Revolving credit includes credit cards:

Non revolving credit includes auto loans:

And then there are analysts who don't believe the number (though it is inline with income and spending reports):
Analyst Opinion of the Consumer Credit Situation:

You would have to be on drugs to believe consumer credit grew at 8.75% in November.

Not only does this data set suffer from backward revision (moderate to significant enough to change trends – such as this month), but the use of compounding (projecting monthly change as annual change) by the Federal Reserve to determine consumer credit growth rates exaggerates the volatility in this data. The total consumer credit unadjusted growth in 2017 has been hovering around 6% year-over-year.
Down more than expected but remains elevated since the election as per the chart, even as the reality of weak sales and earnings persists:

Highlights

Optimism among small business owners cooled in December after November's surge to 13-year highs, with the NFIB Small Business Optimism Index falling 2.6 points to 104.9. Leading the monthly index below the range of analysts' expectations and 3 points below the consensus forecast was an 11-point drop in expected business conditions to 37 and a loss of 8 points to minus 1 in plans to increase inventories. Only two of the ten components of the index posted gains, five declined, and three remained unchanged. Despite the monthly drop, however, NFIB said 2017 was the strongest year in the 45-year history of the index, as measured by the monthly average, which at 104.8 beat the previous record of 104.6 set in 2004.

Helping to dampen optimism in December were expectations of real sales, down 6 points to 28, plans to increase employment, down 4 points to 20, and earnings trends, which dropped 5 points deeper into negative territory to a minus 15, by far the worst performance among the components.

The two rising components, plans to make capital outlays and current job openings, both posted only feeble 1-point gains, albeit achieving high levels of 27 and 31, respectively.

While the December index level may be disappointing, the NFIB pointed out the reading remains one of the strongest in the history of the index, as November's 107.5 was bested only by the 108.0 record posted in July 1983. Moreover, throughout the year much of the optimism reported by the survey hinged on expectations of the passage of business-friendly tax reform, and the likely positive reaction to the signing of the decidedly business-friendly Tax Cuts and Jobs Act on December 22 was probably not captured in the December survey.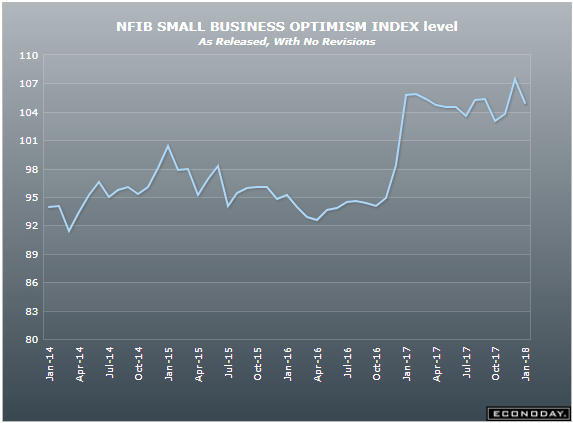 Weaker than expected, and the details still tell me it's been cooling down for a while: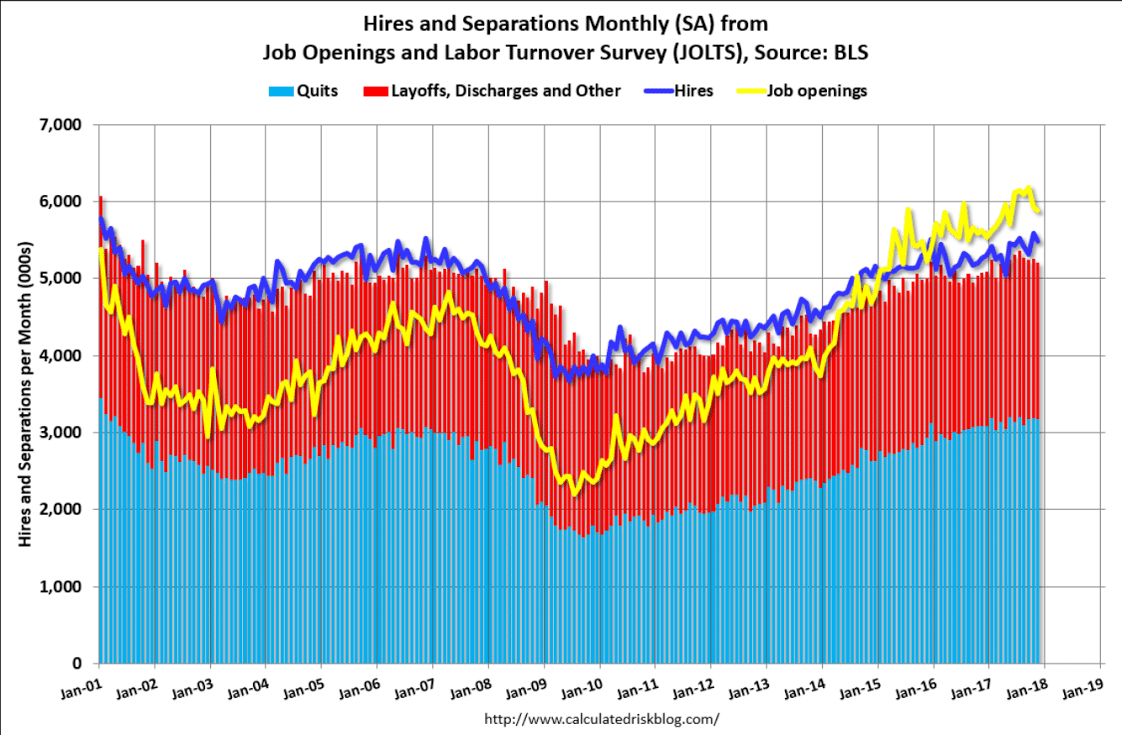 Oil prices up and drilling down some: