Up nicely but not so good excluding aircraft orders, which are highly volatile:
Highlights

Factory orders surged 3.0 percent in June but were skewed higher by a more than doubling in monthly aircraft orders. Excluding transportation equipment, a reading that excludes aircraft, orders actually fell 0.2 percent in the month following a 0.1 decline in May and no change in April. June orders for capital goods (nondefense ex-aircraft) were also weak, unchanged in the month.

Shipments fell 0.2 percent while inventories rose 0.2 percent, lifting the inventory-to-shipment ratio to a less lean 1.38. A major positive in today's report is a 1.3 percent surge in unfilled orders which had been flat but are now getting a lift from transportation equipment as well as capital goods industries including machinery and fabrications.

Turning to nondurable goods, orders slipped 0.3 percent on declines for petroleum and coal. Aircraft are an important part of the factory sector and have been a big plus so far this year, yet outside aircraft the sector is still struggling to get in the air this year.
This is not inflation adjusted and still well below the highs of the last cycle and below the 2014 highs: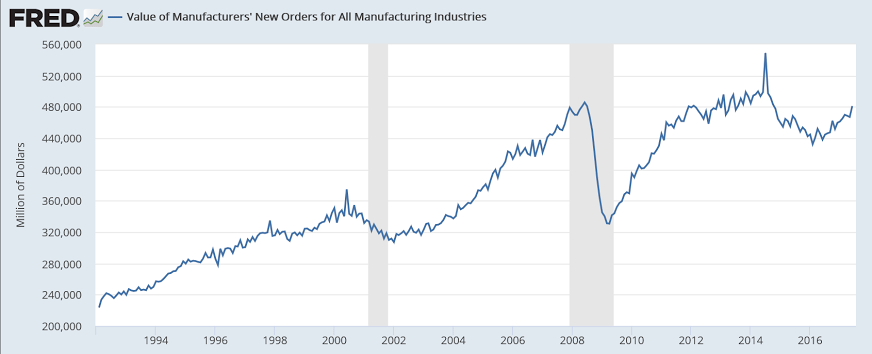 Less than expected as trumped up expectations fade further:

Highlights

Slowing is the call from ISM's non-manufacturing sample where July results show their least strength since August last year. The composite index slowed by an abrupt 3.5 points in July to 53.9 with new orders down 5.4 points to 55.1 and business activity down 4.9 points to 55.9. Employment is also down, to 53.6 from 55.8 in a reading that does not point to acceleration for tomorrow's employment report. But strength is still the clear message of this report with inventories rising, delivery times slowing and, very importantly, backlog orders still rising.

Yet the July edition is a surprise for this report which is usually very consistent with the headline composite in the high to mid 50s and new orders and business activity in the low 60s. The contrast with this morning's PMI services report is noticeable, one slowing and one accelerating, but the story of the two samples together is positive: moderate growth for the bulk of the economy.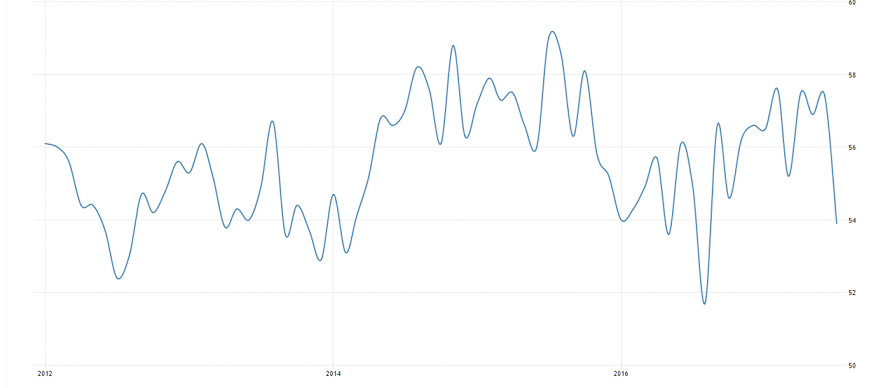 This could slow things down:
Aug 3 (Reuters) — China's giant SOEs have been leading the country's "go out" drive with growing overseas investments, but they have encountered low returns on investment and weak profitability, the ministry said. The guidelines will help "strengthen financial management of overseas investment of state-owned enterprises, prevent financial risks and improve investment efficiency," the ministry said. "The lack of accountability of senior executives for poor or failed investment is one of the reasons that lead to radical decision-making and loss-making deals," Xu Baoli, director of the research centre at China's state-owned assets regulator said.
ISM NY: