NY state mfg survey, Housing index, Lending, White House headline
Trumped up expectations reversing?
Highlights

Activity in the New York manufacturing region is flattening out this month following a run of unusually strong growth. May's Empire State index came in at a lower-than-expected minus 1.0 with new orders also moving into the negative column to minus 4.4. Unfilled orders, which were very strong in April and March, also moved below zero to minus 3.7.

But the strength in prior orders is keeping production up, at a very solid plus 10.6 this month, and is also keeping hiring up, at 11.9 and only 2 points slower than April's 2-year high. Delivery times continue to slow though to much a lesser degree than prior months which points to easing congestion in the supply chain. Inventories are flat and price pressures still increasing though, once again, less than before.

The slowing in this report is actually welcome news, giving time for supply constraints to ease and reducing risks of over heating. This report points to easing for Thursday's Philly Fed where another month of enormous strength is currently the expectation. Yet despite the strength of anecdotal reports like Empire State and Philly, definitive factory data out of Washington have yet to show outsized acceleration. Watch for the manufacturing component of tomorrow's industrial production, definitive data where only a moderate rise is expected.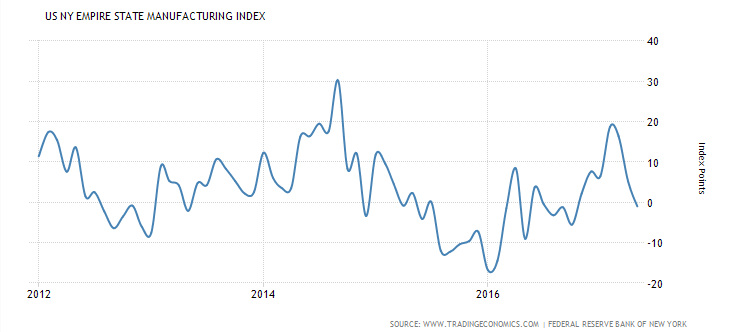 To me buyer traffic is most relevant:
The NAHB Housing Market Index in the United States rose to 70 in May of 2017 from 68 in April, beating market expectations of 68. The index is 1 point shy of 71 reached in March, which was the strongest reading since June 2005. The index of current single-family home sales went up 2 points to 76; sales expectations over the next six months increased 4 points to 79 while buyer traffic edged down 1 point to 51.
Not good:
Loan issuance declined in the first quarter from the previous three-month period, the first time that has happened in four years, according to a SNL Financial.
Commercial and industrial lending, which usually pops this time of year, posted just a small increase.
The business climate, at least measured by the willingness to take on debt, remains cautious.