A weak number and Q4 not looking so good either. Domestic spending decelerating as incomes fade from reduced capex. Slowing investment, weak exports, and inventory reductions should also continue into Q4 as top line growth continues to fade. And lower prices speak to lower demand. Vehicle sales also looking to slow into Q4 as per recent vehicle loan stats and industry forecasts.
GDP

Highlights
Steady domestic spending helped to prop up GDP growth in the third-quarter which came in at an annualized 1.5 percent, just shy of expectations. Final sales rose a very respectable 3.0 percent in the quarter in a gain that points to underlying momentum for the fourth quarter. Both residential and nonresidential investment slowed in the third quarter with both net exports and especially inventories also pulling down GDP. The price index came in a little lower than expected at plus 1.2 percent.

Personal consumption expenditures slowed 4 tenths but are still a major highlight at a plus 3.2 percent rate. Service spending, an area insulated from global factors, continues to show solid resilience. But it was spending on durables, including vehicles, that was the strongest consumer category in the quarter. Government purchases, another area of domestic-centered spending, also contributed to the quarter's growth.

The quarter's 1.5 percent rate is only 2 tenths lower than the average growth of the prior four quarters and comes against a difficult 3.9 percent comparison in the second quarter. Not a great result but not bad either.
Decelerating since the oil price collapse: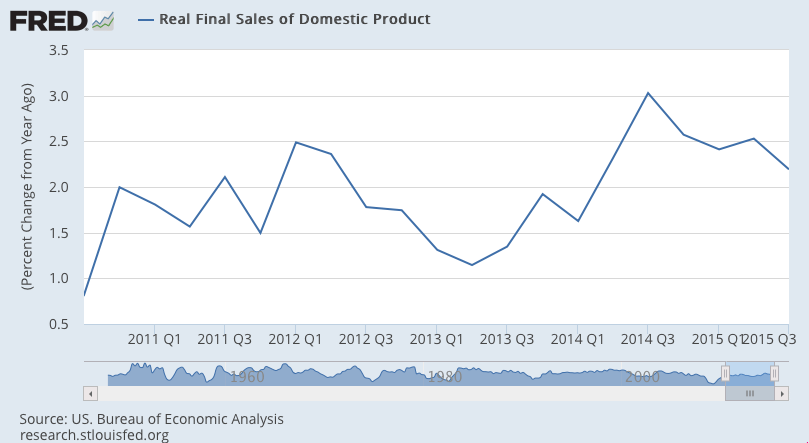 Decelerating since the collapse in oil prices: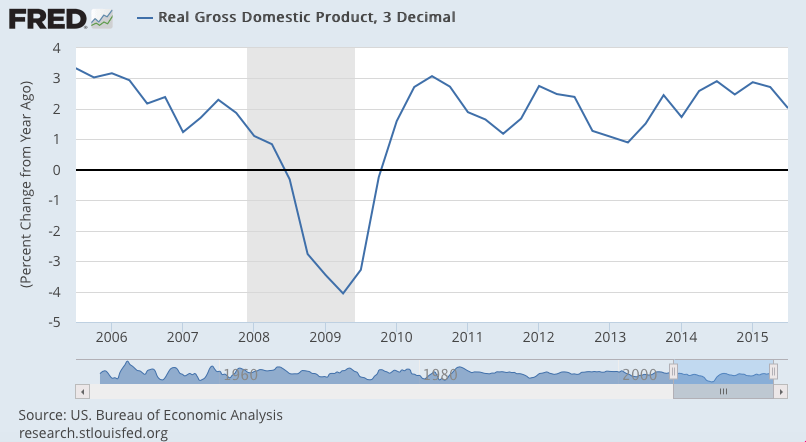 Housing continues it's pull back from the blip as previously discussed and another negative for Q4 GDP:
Pending Home Sales Index

Highlights
The outlook for the housing sector has turned lower this week, first on Monday's very weak new home sales report followed by today's September index on pending sales of existing homes which is down a very sharp 2.3 percent. The report cites lack of low priced homes on the market as a key negative that is pulling down total sales and keeping out first-time buyers. Uncertainty in the financial markets is also cited, perhaps making buyers take a wait-and-see approach.

Year-on-year, pending sales are up only 3.0 percent which is very weak and far below the nearly double-digit pace for final sales of existing homes. All regions show low to mid single-digit declines in the month.

The housing sector, which just last week seemed a certain area of strength, may now be a liability for the economy.