This is not supposed to happen with falling gas prices…
Retail Sales

Highlights
Retail sales disappointed for December. Retail sales in December fell 0.9 percent after posting a 0.4 percent gain in November and a 0.3 percent rise in October. Expectations were for a 0.1 percent decline. The December decrease is the largest negative since January 2014. Both November and October were revised down. Excluding autos, sales decreased 1.0 percent after rising 0.1 percent in November. Analysts expected a 0.1 percent decrease. Excluding both autos and gasoline sales declined 0.3 percent after advancing 0.6 percent in November. Expectations were for a 0.6 percent boost.

The motor vehicle component was weak as expected from the unit new auto sales report. Motor vehicles dipped 0.7 percent in December, following a 1.6 percent gain the month before. Gasoline station sales fell again on lower prices. Sales dropped a sharp 6.5 percent after a 3.0 percent drop in November.

Within the core weakness was broad based, led by miscellaneous store retailers (down 1.9 percent), building materials & garden supplies (down 1.9 percent), electronics & appliance (down 1.6), and general merchandise (down 0.9 percent). Notable gains were seen in furniture & home furnishings (up 0.8 percent) and food services & drinking places (up 0.8 percent).

Today's retail sales report is a surprise on the downside. But it also is a quandary. Consumer confidence is up and discretionary income is up with gasoline prices down. It is possible that more money is going to services which do not show up in the retail sales report. Probably the biggest positive in the report is the boost in food services & drinking places which is a very discretionary spending item-suggesting a positive mood for the consumer. But looking at the numbers technically, fourth quarter GDP forecasts likely are being shaved.

'Control Group': Retail Sales ex food, gas, building materials, auto dealers:

The decrease in December was well below consensus expectations of a 0.1% decrease. Both October and November were revised down.

This was a weak report even after removing the impact of lower gasoline prices.
Import and Export prices: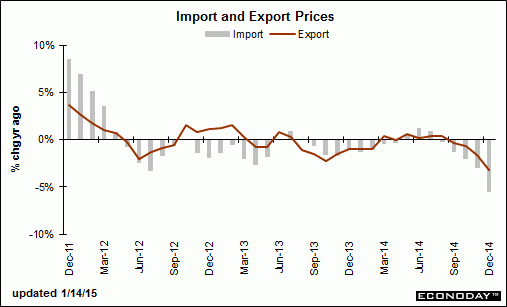 For November:

Airlines not flying as high as expected either: