Note the Nov/Dec mini spike to capture year end tax credits (my story) followed by familiar down for the winter, then up, then back down some pattern.
Yes, you can have a low output gap without housing, and yes, manufacturing is chugging along nicely. But overall the charts show declining monthly growth rates of retail sales, industrial production, and housing starts, as what's looking more and more like the macro constraint of the relentless demand leakages continue to take their toll.
Housing Starts




Highlights
Fed Chair Janet Yellen was right to worry about the housing sector during Congressional testimony this week. Starts in June disappointed sharply, declining another monthly 9.3 percent after decreasing 7.3 percent in May. June starts came in at 0.893 million units annualized, up 7.5 percent on a year-ago basis. Expectations were for 1.026 million units.

The fall in the latest month was led by the multifamily component but closely followed by the single-family component. Multifamily family starts dropped 9.9 percent after falling 14.7 percent in May. The single-family component declined 9.0 percent in June, following a 2.6 percent dip the prior month.

Building permits also lost ground.

Permits declined 4.2 percent after decreasing 5.1 percent in May.

June's 0.963 million units annualized was up 2.7 percent on a year-ago basis. Analysts forecast 1.038 million units for June.

The housing sector still needs propping up by the Fed. This sector is losing steam instead of improving. Recent NAHB HMI have pointed to start weakness with weak numbers on traffic.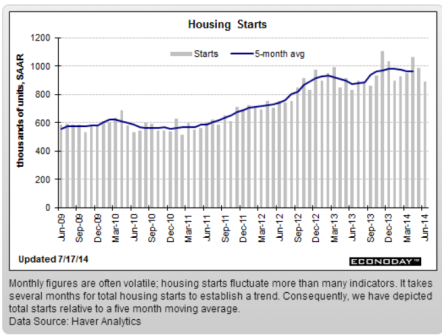 Full size image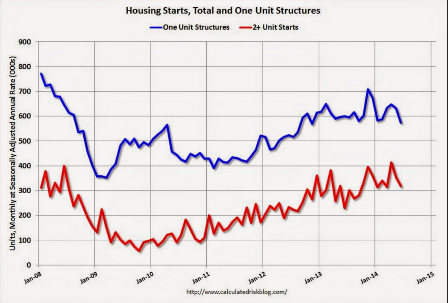 Full size image
Full size image
Full size image