Slowed in Q1, rebound in Q2, H1 about the same old 4% rate IP usually grows at as previously discussed:
Industrial Production




Highlights
As suggested by production worker hours, industrial production was soft in June. Industrial production slowed to a rise of 0.2 percent, following a jump of 0.5 percent in May. Expectations were for a 0.4 percent boost. The manufacturing component decelerated to a modest 0.1 percent gain after jumping 0.4 percent the prior month. The median market forecast was for 0.4 percent. Mining was healthy with a 0.8 percent increase, following a 1.1 percent surge in May. Utilities declined 0.3 percent, following a drop of 0.4 percent in May.

Manufacturing excluding motor vehicles increased 0.2 percent in June after a 0.3 percent rise in May.

Within manufacturing, the production of durable goods increased 0.4 percent in June and rose at an annual rate of 8.8 percent in the second quarter. In June, the gains were broad based among durable manufacturing industries, with increases of 1.0 percent or more in the indexes for nonmetallic mineral products, for primary metals, for fabricated metal products, for aerospace and miscellaneous transportation equipment, and for furniture and related products. The production of nondurable goods moved down 0.3 percent in June. In June, the output of petroleum and coal products fell 2.7 percent, in part because of a disruption at a major refinery; the production of apparel and leather declined 1.3 percent, and the index for food, beverage, and tobacco products moved down 0.6 percent.

The overall capacity utilization rate in June held steady at 79.1 percent. The latest number came in slightly lower than the consensus projection for 79.2 percent.

For the second quarter as a whole, manufacturing production rose at an annual rate of 6.7 percent after increasing 1.4 percent in the first quarter, suggesting that second quarter GDP will rebound nicely from the first quarter freeze shock.

We are seeing some volatility in manufacturing numbers recently. But on average, growth is healthy.
Mortgage purchase apps still way soft:
MBA Purchase Applications

Highlights
The purchase index fell 8.0 percent in the July 11 week, more than reversing a 4.0 percent gain in the prior week. The refinance index was little changed, down 0.1 percent in the week. Rates were little changed in the week with the average 30-year rate for conforming loans ($417,500 or less) up 1 tenth to 4.33 percent. Watch for the housing market index later this morning at 10:00 a.m. ET.
MBA purchase applications: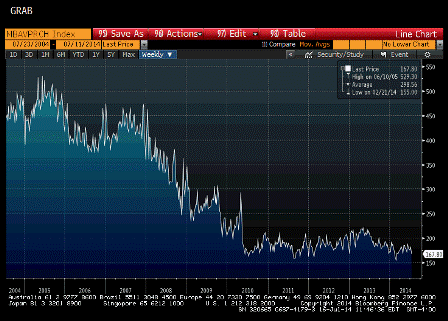 Full size image
National Association of Home Builders index up: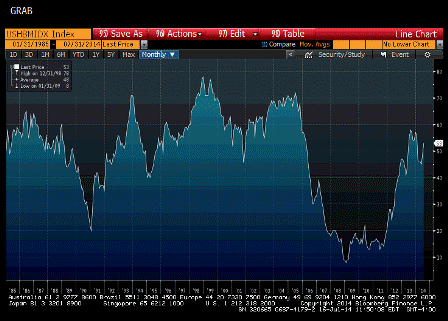 Full size image

Full size image