---
MBA Mortgage Applications (Mar 27)
| | |
| --- | --- |
| Survey | n/a |
| Actual | 3.0% |
| Prior | 32.2% |
| Revised | n/a |
 
More evidence of the rising deficit turning the economy sideways ahead of the fiscal package kicking in this month to increase the injection of net financial assets to the non government sectors:
by Lynn Adler

Apr 1 (Reuters) — The Mortgage Bankers Association's applications index, which includes both refi and purchase requests, rose by a seasonally adjusted 3 percent in the week ending March 27 to 1,194.4.

The purchase applications index was little changed, rising 0.1 percent to 268.0, while the refinancing gauge gained 3.7 percent to 6,600.1.

This is up sharply from 2,722.7 as recently as early February.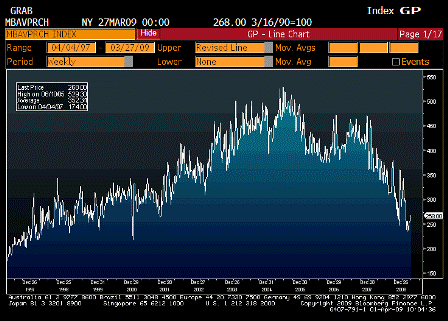 MBA Purchasing Applications (Mar 27)
| | |
| --- | --- |
| Survey | n/a |
| Actual | 268.00 |
| Prior | 267.80 |
| Revised | n/a |
MBA Refinancing Applications (Mar 27)
| | |
| --- | --- |
| Survey | n/a |
| Actual | 6600.10 |
| Prior | 6363.20 |
| Revised | n/a |
---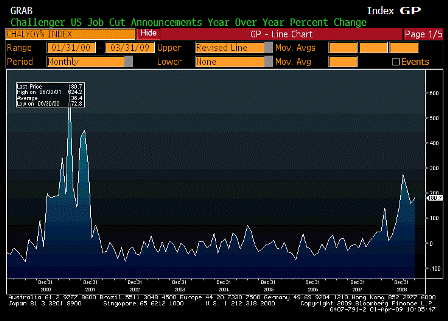 Challenger Job Cuts YoY (Mar)
| | |
| --- | --- |
| Survey | n/a |
| Actual | 180.7% |
| Prior | 158.4% |
| Revised | n/a |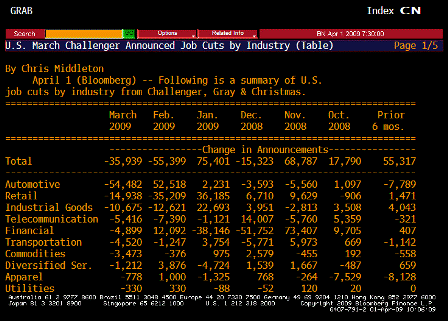 Challenger Job Cuts TABLE 1 (Mar)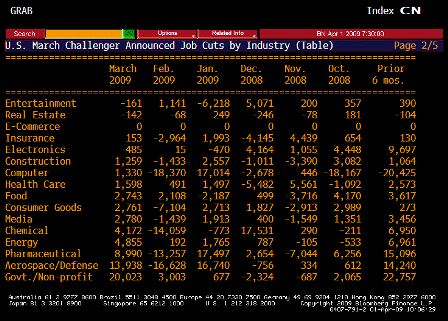 Challenger Job Cuts TABLE 2 (Mar)
Challenger Job Cuts TABLE 3 (Mar)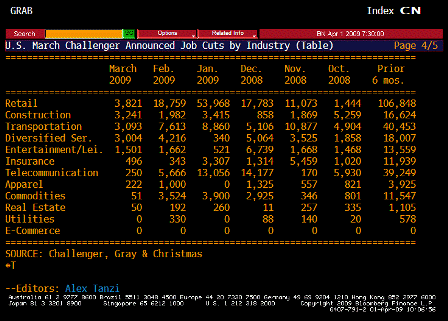 Challenger Job Cuts TABLE 4 (Mar)
---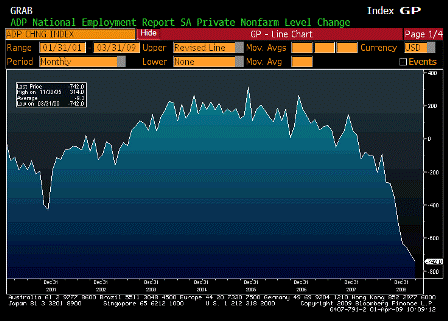 ADP Employment Change (Mar)
| | |
| --- | --- |
| Survey | -663K |
| Actual | -742K |
| Prior | -697K |
| Revised | -706K |
ADP ALLX (Mar)
---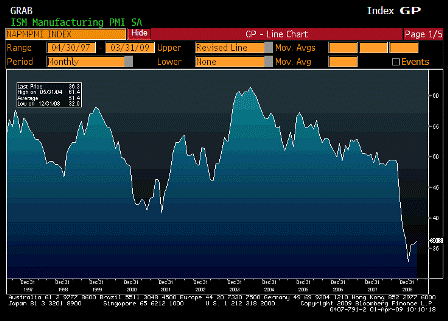 ISM Manufacturing (Mar)
| | |
| --- | --- |
| Survey | 36.0 |
| Actual | 36.3 |
| Prior | 35.8 |
| Revised | n/a |
ISM Prices Paid (Mar)
| | |
| --- | --- |
| Survey | 33.0 |
| Actual | 31.0 |
| Prior | 29.0 |
| Revised | n/a |
---
Construction Spending MoM (Feb)
| | |
| --- | --- |
| Survey | -1.9% |
| Actual | -0.9% |
| Prior | -3.3% |
| Revised | -3.5% |
Construction Spending YoY (Feb)
| | |
| --- | --- |
| Survey | n/a |
| Actual | -10.0% |
| Prior | -10.1% |
| Revised | n/a |
---
Pending Home Sales MoM (Feb)
| | |
| --- | --- |
| Survey | 0.0% |
| Actual | 2.1% |
| Prior | -7.7% |
| Revised | n/a |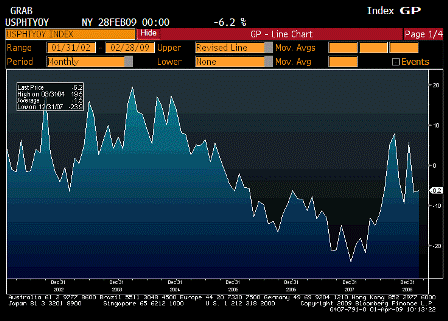 Pending Home Sales YoY (Feb)
| | |
| --- | --- |
| Survey | n/a |
| Actual | -6.2% |
| Prior | -6.6% |
| Revised | n/a |

[top]