---
GDP QoQ Annualized (4Q A)
| | |
| --- | --- |
| Survey | -5.5% |
| Actual | -3.8% |
| Prior | -0.5% |
| Revised | n/a |
 
Karim writes:
Better than expected at -3.8% due to inventory build.
Here is the GDP math:
Private consumption (-2.5%) + Business Fixed Investment (-3.1%) + Government (+0.4%) + Net Exports (+0.1%) + Chg in Inventories (+1.3%)
Real final sales of -5.1% were consistent with estimates.
Business sector overestimated domestic demand, thereby accounting for the inventory build (should reverse in Q1).
Core PCE deflator slowed from 2.4% to 0.6%.
Within investment, both housing (-23.6%) and equipment/software (-27.8%) were very weak.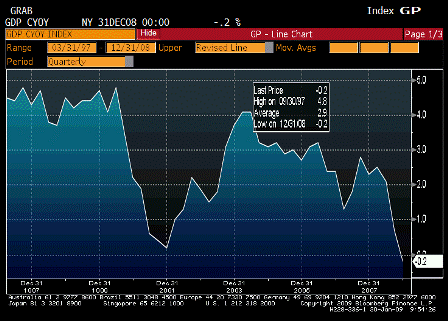 GDP YoY Annualized Real (4Q A)
| | |
| --- | --- |
| Survey | n/a |
| Actual | -0.2% |
| Prior | -0.7% |
| Revised | n/a |
GDP YoY Annualized Nominal (4Q A)
| | |
| --- | --- |
| Survey | n/a |
| Actual | 1.7% |
| Prior | 3.3% |
| Revised | n/a |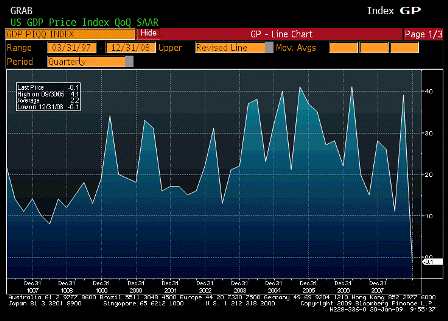 GDP Price Index (4Q)
| | |
| --- | --- |
| Survey | 0.4% |
| Actual | -0.1% |
| Prior | 3.9% |
| Revised | n/a |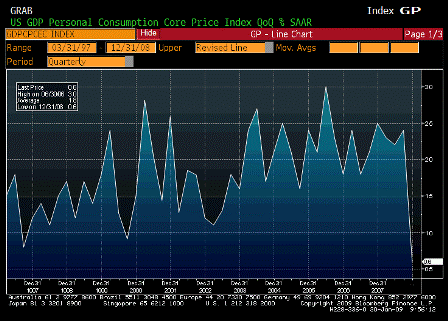 Core PCE QoQ (4Q)
| | |
| --- | --- |
| Survey | 1.0% |
| Actual | 0.6% |
| Prior | 2.4% |
| Revised | n/a |
GDP ALLX 1 (4Q)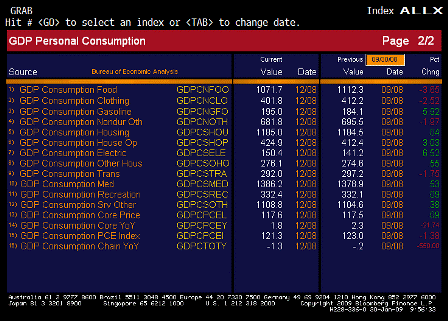 GDP ALLX 2 (4Q)
Personal Consumption (4Q)
| | |
| --- | --- |
| Survey | -3.5% |
| Actual | -3.5% |
| Prior | -3.8% |
| Revised | n/a |
---
Employment Cost Index (4Q)
| | |
| --- | --- |
| Survey | 0.7% |
| Actual | 0.5% |
| Prior | 0.7% |
| Revised | n/a |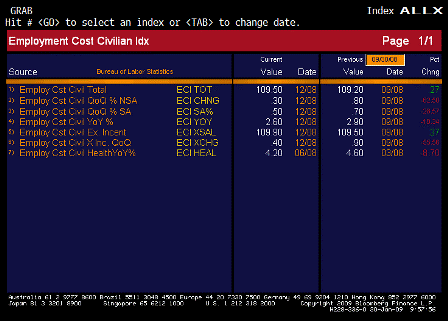 Employment Cost Index ALLX (4Q)
---
RPX Composite 28dy YoY (Nov)
| | |
| --- | --- |
| Survey | n/a |
| Actual | -21.59% |
| Prior | -20.14% |
| Revised | n/a |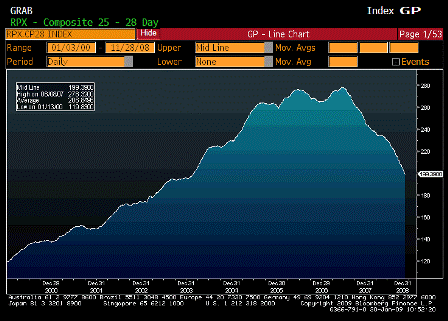 RPX Composite 28dy Index (Nov)
| | |
| --- | --- |
| Survey | n/a |
| Actual | 199.39 |
| Prior | 206.73 |
| Revised | n/a |
---
Chicago Purchasing Manager (Jan)
| | |
| --- | --- |
| Survey | 34.9 |
| Actual | 33.3 |
| Prior | 34.1 |
| Revised | 35.1 |
---
NAPM Milwaukee (Jan)
| | |
| --- | --- |
| Survey | n/a |
| Actual | 33.0 |
| Prior | 30.0 |
| Revised | n/a |
---
U of Michigan Confidence (Jan F)
| | |
| --- | --- |
| Survey | 61.9 |
| Actual | 61.2 |
| Prior | 61.9 |
| Revised | n/a |
U of Michigan TABLE Inflation Expectations (Jan F)

[top]