Existing home sales, Durable goods, China debt, State index
More weakness:
Highlights

Yesterday's new home sales report showed less strength than expected while today's existing home sales results are outright disappointing. Sales fell 2.5 percent in April to an annualized rate of 5.460 million which falls below Econoday's low estimate.

The decline in sales came despite a sizable increase in supply on the market, at 1.800 million for a monthly gain of 9.8 percent though the year-on-year rate remains squarely in the negative column at minus 6.3 percent. On a sales basis, supply rose to 4.0 months from 3.5 months.

The median price for a resale rose 3.2 percent in the month to $257,900 which no doubt held down the month's sales. But the year-on-year rate for the median, in contrast to FHFA or Case-Shiller data which are near 7 percent, is a more moderate 5.3 percent.

All regions were weak in the month especially the Northeast where sales fell 4.4 percent. And only one region, the South, is in the year-on-year plus column and at only 2.2 percent.

Housing got off to a slow start this year and the first indications on the second quarter are not pointing to any acceleration. Housing, like consumer spending, has been unexpectedly flat.
Been near flat for going on three years now: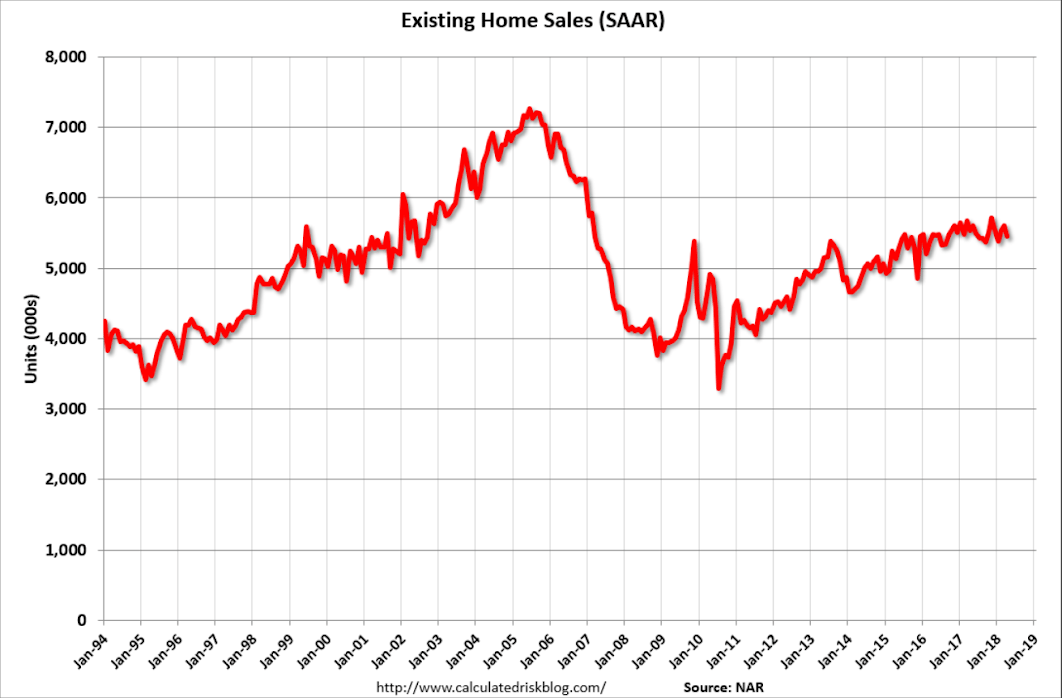 Ex aircraft better than expected, apparently due to the tariffs. The chart shows modest growth and levels that have not yet exceeded 2008 in real terms:

Highlights

Tariff-related price inflation may be driving up dollar totals in the factory sector which, based on the April advance durable goods report, has gotten off to a very strong start for the second quarter. Forget the 1.7 percent headline decline in the month, one due entirely to an understandable swing lower for what have been very strong aircraft orders. Excluding aircraft and other transportation equipment, durable goods orders rose 0.9 percent to beat Econoday's consensus by 3 tenths.

Orders for primary metals, where tariffs on steel and aluminum are in effect, jumped 1.3 percent in April on top of March's giant 4.6 percent surge when tariffs first took effect. Orders for fabricated metals, also affected by tariffs, rose 2.0 percent following March's 1.2 percent gain. These two components make up more than 20 percent of total durable orders.

Elsewhere, capital goods put in a very strong April showing in what is very auspicious news for second-quarter business investment. Core orders, which exclude aircraft, rose 1.0 percent with core shipments, which are direct inputs into fixed nonresidential investment, up 0.8 percent.

Civilian aircraft orders fell by 36.2 percent but follow March's 71.7 percent climb. And defense aircraft helped narrow the difference, rising 7.5 percent in the month. Vehicle orders also opened up the second-quarter on a strong note with a 1.8 percent gain.

The factory sector, as has been indicated by the regional reports, is picking up steam and, showing no immediate negatives and possibly positives from tariffs, looks to be an increasing contributor to the 2018 economy. Other details include a third straight strong rise in unfilled orders, up 0.5 percent in April, and a useful 0.3 percent build for inventories.
These numbers are not adjusted for inflation:
(Nikkei) China is cutting off funds to financial companies and banks tied to regional governments in a crackdown on risky debt. China's massive state-owned banks are largely responsible for keeping the interbank market flush. Chinese regional governments that have hit limits on debt issuance have traditionally founded quasi-private companies to handle infrastructure and public works, borrowing as needed. From the beginning of 2018 through last week, financial institutions and companies sold just under 460 billion yuan in securitized products, a drop of 10% from a year earlier.
This chart has been revised by the Fed and now looks very different: