Looking very weak:

Highlights

Construction has been a soft spot of the economy evident once again in October where spending fell 0.1 percent for the third straight decline and the fourth decline in five months. Spending on new single-family homes in October fell 0.5 percent with home-improvement spending down 0.9 percent, both offsetting a strong 1.0 percent rise in multi-family homes.

Private nonresidential construction fell 0.3 percent in October with declines in power, manufacturing, transportation and commercial components offsetting another strong gain for office building.

Public building has been a strength for the construction sector as it was again in October. Educational building rose 2.6 percent in the month though highway & street spending did edge 0.1 percent lower.

But the year-on-year rates really tell the story with education up 9.2 percent and highway & streets up 5.2 percent. Private nonresidential spending is up a very solid 6.4 percent led by office building at 16.3 percent with the commercial subcomponent bringing up the rear at a 0.6 percent gain.

Total residential spending is up only 1.8 percent year-on-year with single-family up 2.4 percent, home improvements up only 0.4 percent, and multi-family up 3.2 percent. The softness on the residential side is limiting overall construction spending to a 4.9 percent yearly gain.

Nonresidential and public building have been solid this year but the rise underway in mortgage rates appears to be taking the steam out of what was already an exhausted looking housing sector.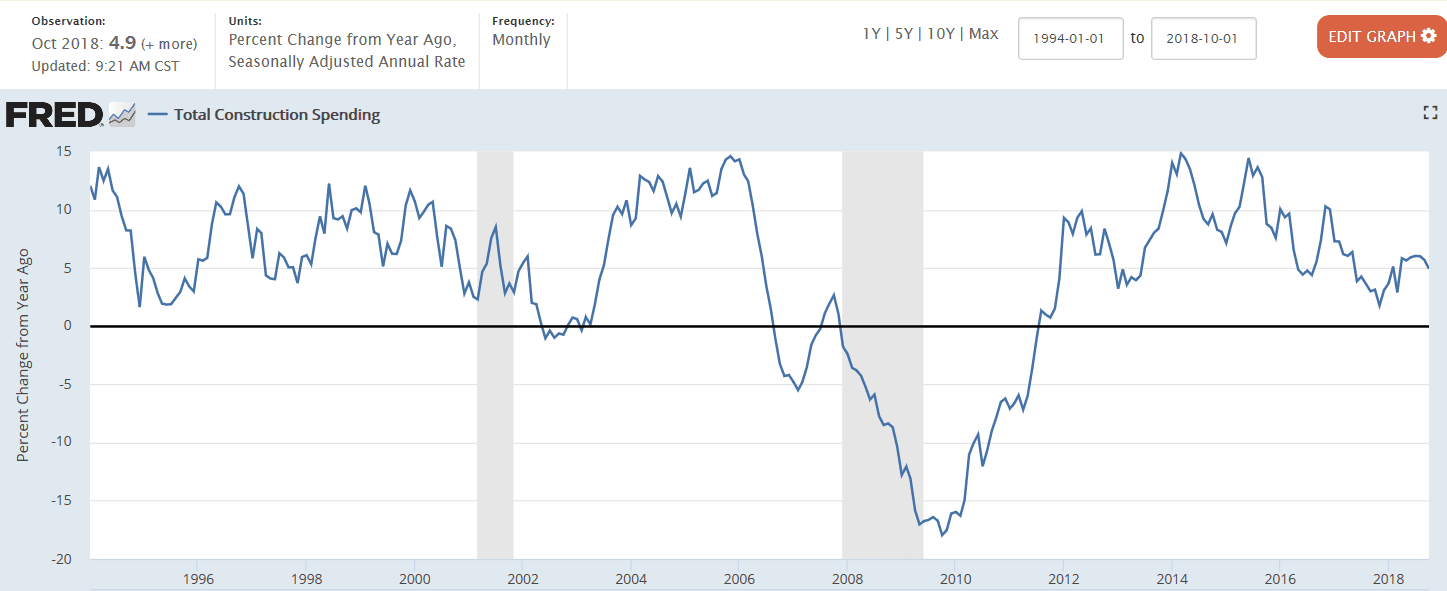 According to latest estimates from market research firm IDC, global smartphone shipments amounted to 355.2 million units in the third quarter of 2018, marking the fourth straight quarter of negative growth for the smartphone market. For the first nine months of 2018, global shipments added up to 1.03 billion units, down 3.6 percent from the same period last year.