Mixed bag again, as auto sales contributions are volatile in a generally softening auto market. And the Fed estimates the tax cuts and spending increases will add about .4-.5% to GDP this year. Also, the spending numbers are not inflation adjusted, and year over year cpi has been moving higher:

Highlights

Strong gains for the discretionary categories of autos and restaurants and a big upward revision to May highlight the June retail sales report. Total sales rose an as-expected 0.5 percent in June with May, in what will be another positive for second-quarter GDP, revised a sharp 5 tenths higher to an outsized 1.3 percent jump.

What's striking is that autos were very strong in both June and May, up 0.9 and 0.8 percent respectively, with restaurants really showing unusual acceleration, up 1.5 and 2.6 percent in the two months. Gains here point to new confidence among consumers and are consistent with the strength underway in the labor market.

Sales at health & personal care stores were unusually strong in June, up 2.2 percent following a series of very strong gains in the 1 percent range. Nonstore retailers, in a sign of e-commerce strength, rose 1.3 percent in June and continue to make ground compared to other components. Gasoline stations, boosted by high gas prices, saw a 1.0 percent rise in June sales following a 3.0 percent spike in May. Building materials, at plus 0.8 percent in June, and furniture store sales, up 0.6 percent, are both positive indications for residential investment.

Consumer spending in May was at first modest overall on weakness in spending on services though today's upward retail revision will offer a major lift for May's final result. And unless services prove flat again, June — based on today's report — should prove a very strong finish for the second-quarter economy.
Retail are only a bit more than 10% higher than they were in 2008, adjusted for inflation but not population, again demonstrating how weak this recovery has been: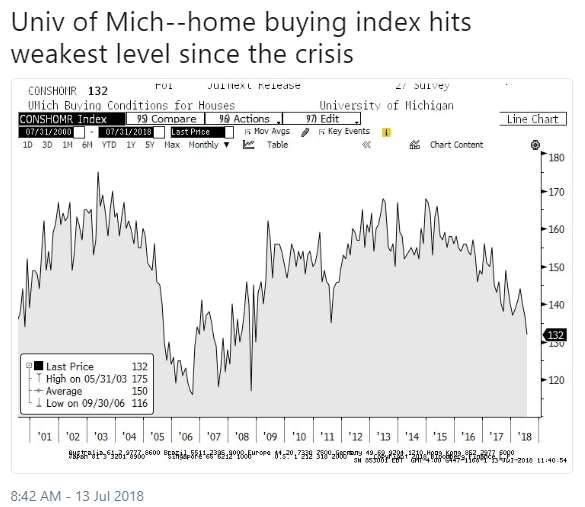 President Donald Trump and Russian leader Vladimir Putin met in Finland's capital city on Monday for a bilateral talk that lasted more than two hours — longer than the 90 minutes that had originally been planned.
"The Russian state has never interfered and is not going to interfere into internal American affairs including election process," Putin said during the conference alongside Trump.
"There was no collusion. I didn't know the president. There was nobody to collude with," Trump said Monday.
Disputing the US intelligence community, President Trump said at a press conference alongside Russian President Vladimir Putin Monday that "I don't see any reason why" Russia would interfere in the 2016 election.