Trade, Philly Fed Index, small business hiring
Worse than expected:
Highlights

Net exports look to be holding back fourth-quarter GDP following a second month of deep deficit in cross-border goods trade, at $69.7 billion in November following a revised $68.1 billion deficit in October. The monthly average for the third-quarter was much lower, at $63.8 billion.

But there is very good news in the report and that's exports which rose a very strong 3.0 percent in November in to $133.7 billion, led by strong improvement in the key category of capital goods at a 5.6 percent monthly increase, vehicles at a gain of 7.5 percent, and consumer goods which rose 4.0 percent.

Imports, however, also rose, up 2.7 percent in the month to $203.4 billion with industrial supplies up 4.7 percent, consumer goods up 4.2 percent, and capital goods up 2.6 percent.

This report also includes preliminary data on November inventories, up 0.7 percent at the wholesale level in a what will be a plus for fourth-quarter GDP that is neutralized in part by only a small 0.1 percent build for retail inventories.

The gain in wholesale inventories is a plus but two months of a rising goods deficit will take some of the shine off fourth-quarter GDP. Still, the gain in exports is a very important positive while the gain in imports of capital goods, though a subtraction for GDP, does underscore improvement underway in domestic business investment.
Last month's hopeful move up reversed putting this back to levels that historically have been associated with recessions: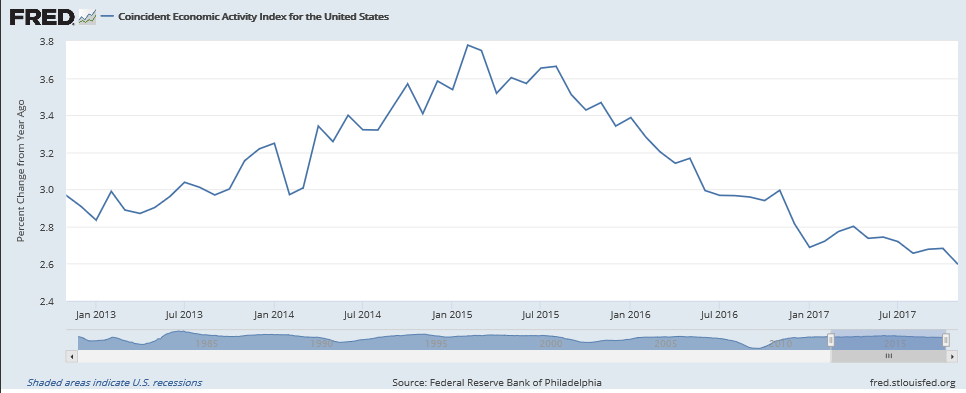 Paychex's Small Business Jobs Index closed the year at 99.70 after falling 0.16 percent in December and 0.78 percent for the year.
Average national hourly earnings were at $26.14, up 2.76 percent year over year and averaged an increase of 2.85 percent for 2017.