Higher than expected but last month revised lower, so seems best to wait a month (and sometimes more) for the revisions before passing judgement. And the wage data, if anything, is that of a very low demand economy with lots of excess capacity:
Highlights

Overheating may not be the description of the labor market but heating up definitely is. Nonfarm payrolls rose a stronger-than-expected 228,000 in November led by outsized gains for manufacturing at 31,000, construction at 24,000, and professional services at 46,000.

Pointing to the risk of labor constraints is a rise in the average workweek, up 1 tenth to 34.5 hours for private-sector employees. Another risk is the lack of available workers, reflected most clearly in the unemployment rate which is unchanged at a 17-year low of 4.1 percent.

Yet all this demand has yet to translate into wage inflation which remains subdued. Average hourly earnings, at $26.55, did rise 0.2 percent in the month but the prior month is revised 1 tenth lower and is now at minus 0.1 percent. The year-on-year rate is only 2.5 percent which is historically low for this reading.

The bumps have come and gone and the labor market is where it was before the hurricane season, continuing to grow and continuing to absorb what is a very thin pool of available labor. Still, for the fourth-quarter outlook, today's report points to strong year-end momentum for the economy.
By Bill McBride

The headline jobs number was strong at 228 thousand, probably somewhat due to an additional bounce back from the hurricanes, and above expectations. The previous two months were revised up slightly by a combined 3 thousand jobs.

The September jobs report was revised up again (now up to 38 thousand), and that keeps the record job streak alive, now at 86 consecutive months (93 months if we remove the decennial Census hiring and firing).

Earlier: November Employment Report: 228,000 Jobs Added, 4.1% Unemployment Rate

In November, the year-over-year change was 2.07 million jobs. This is still generally trending down.

Read more at http://www.calculatedriskblog.com/#2j1WAO4iIwrJIl2w.9
The annual growth rate's overall downtrend remains intact, and this chart is not on a population adjusted basis: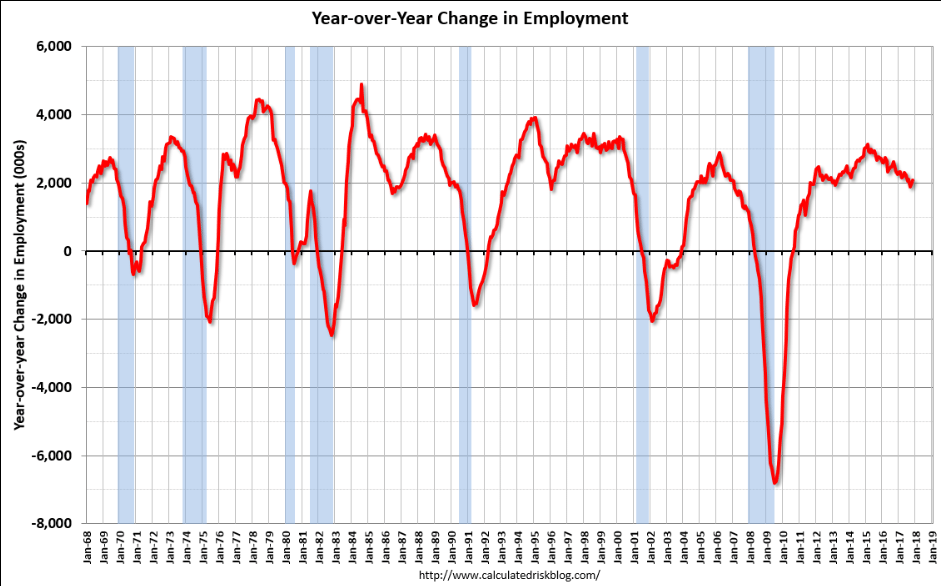 Coming off more than expected: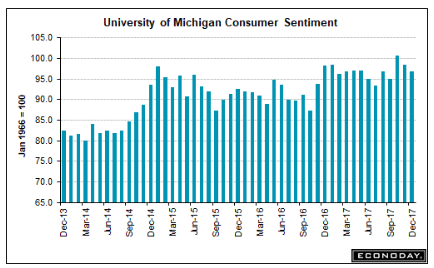 Falling inventories at this point in time are not a sign of strength: