Private payrolls, Construction spending, Vehicle sales, Saudi output and pricing, Trump news headlines
2 month average is 167,500:
Highlights

ADP is calling for a limited snap back in the October employment report. ADP sees private payrolls rising 235,000 which is just on the high side of ADP's usual estimates. Actual private payrolls fell 40,000 in September, pulled down by hurricane dislocations. Today's results may, only on the margin, pull down expectations for Friday's private payrolls where the consensus is currently 320,000.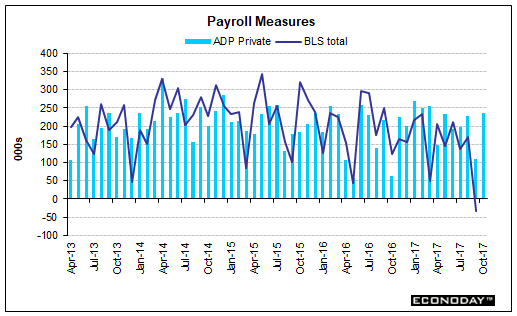 Service sector employment growth began it's deceleration at the end of 2014 when oil capex collapsed: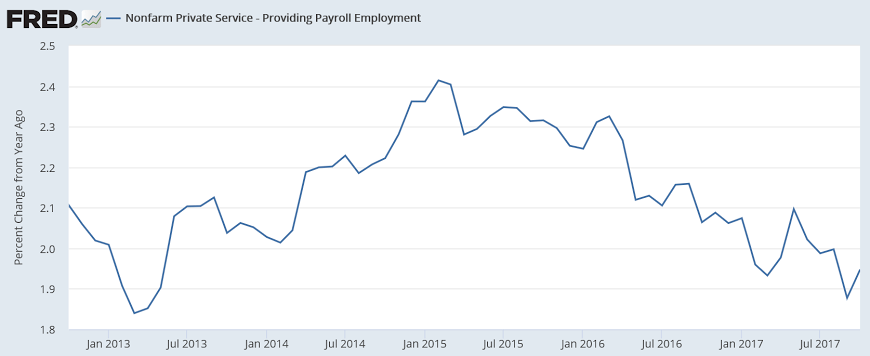 Highlights

The non-residential sector gets a downgrade in today's construction spending report where the headline increase, at 0.3 percent in September, nevertheless beats the consensus by 3 tenths. Private non-residential spending, however, fell a steep 0.8 percent following a sharply downward revised 0.7 percent decline in August. Year-on-year, this reading is down 3.8 percent with weakness most evident in manufacturing and office building that offsets gains for commercial building.

The residential side, though unchanged in September, shows much more strength with a year-on-year rise of 9.6 percent. Spending on both new single-family and new multi-family homes actually increased in the month, up 0.2 and 0.6 percent respectively, but spending on home improvements fell back 0.6 percent.

Public spending improved in the month led by a 5.2 percent gain for educational building. Highway & street spending rose 1.1 percent in the month but the yearly decline is still steep at 7.4 percent. Both Federal and state & local spending rose in the month but are down in the low single-digits on the year.

This is a mixed report for what has proven to be an uneven year for the construction and housing sectors.

All three look like they're in decline to me: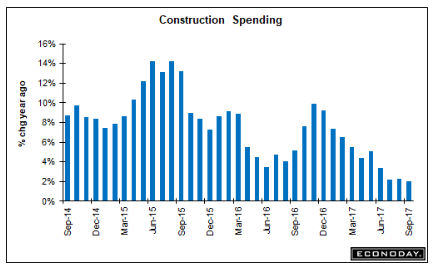 Down from last month but better than expected on post hurricane replacement buying:
From : WardsAuto

Another month ended well beyond expectations, as replacement sales and inventory clear-out boosted the daily sales rate to a 15-year high.

U.S. automakers sold 1.35 million vehicles in October, resulting in a daily sales rate of 53,945, 2.6% above prior-year.

A 18.00 million SAAR was ahead of year-ago's 17.80 million and behind prior-month's exceptionally high 18.48 million mark.
That is up 1% from October 2016, and down 2.6% from last month.
Saudis set price via their discounts and let quantity sold float. Note that their discounts seem to have turned south, indicating
they are looking remove the upward pressure on prices since their prior discount adjustments: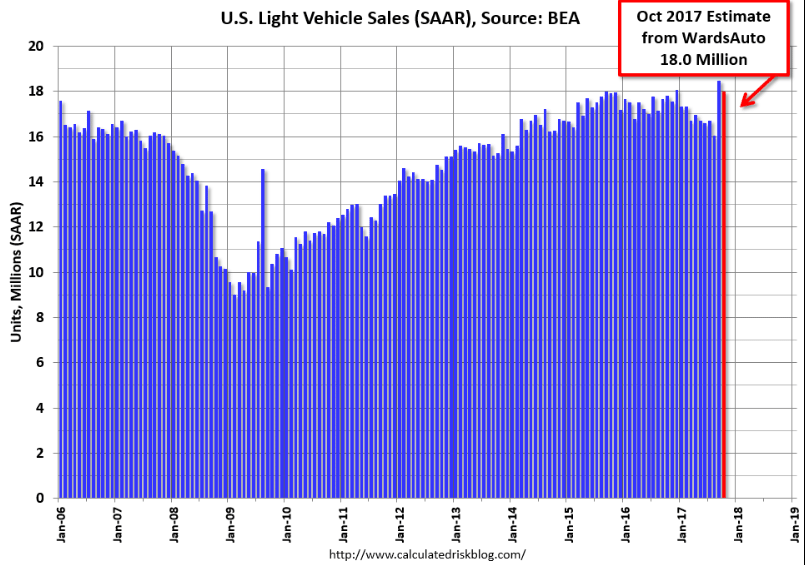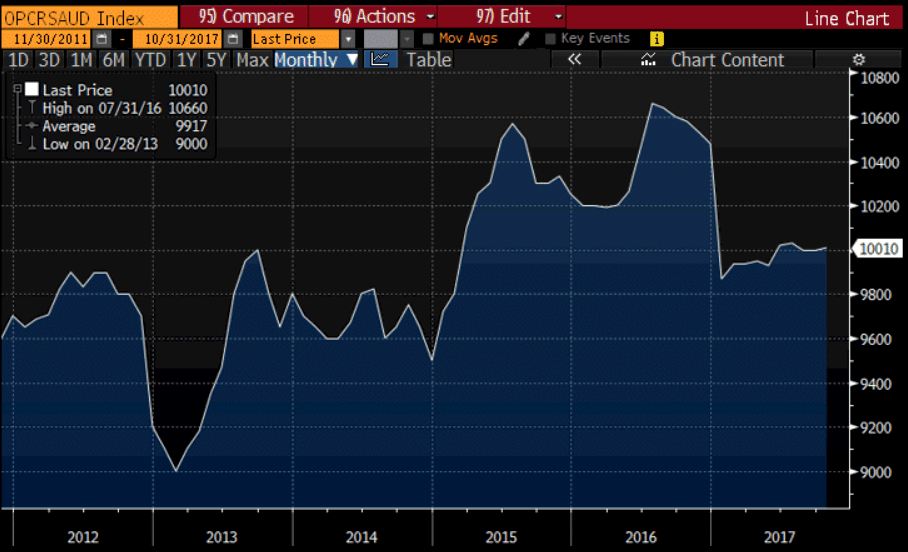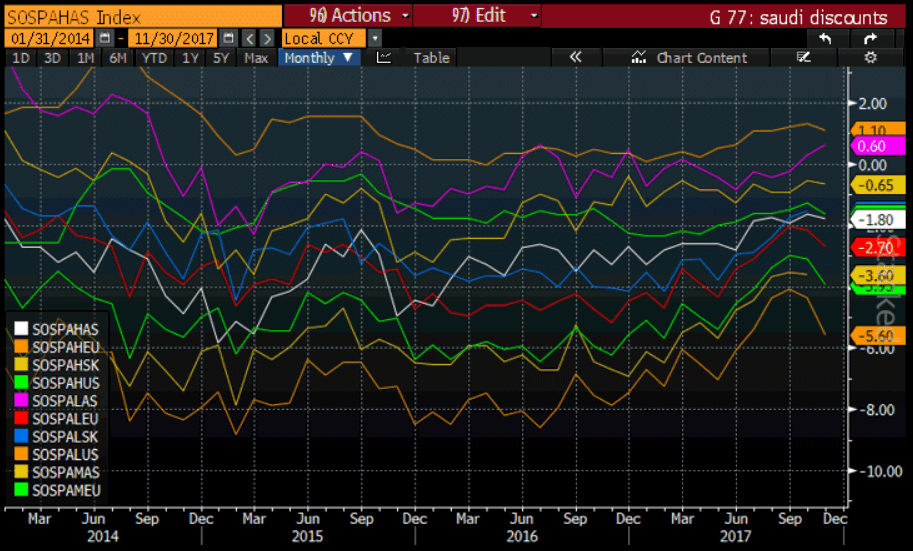 Trump's politicised reaction to New York attack a far cry from Las Vegas shooting

President Donald Trump said his Justice Department is a "joke" and blamed Democrats for Tuesday's attack that killed eight people in Manhattan, saying they "do not want to do what is right for the country."

Sen. Jeff Flake, R-Ariz., said on Twitter that Trump was unfairly blaming Schumer for the diversity visa program. Flake, one of Trump's chief Republican foes in Congress, said Schumer was among a group of eight Republican and Democratic senators who proposed eliminating the program three years ago as part of a broader bipartisan bill to overhaul U.S. immigration laws.
Flake, who served on that "Gang of Eight" with Schumer, said: "I know. I was there."

The immigration bill ultimately failed in the GOP-led House after passing the Senate in June 2013, 68-32, with 14 Republicans joining Democrats.

"I'm calling on President Trump to rescind his proposed cuts to this vital anti-terrorism funding immediately," Schumer said.

He said Trump actually had proposed cutting anti-terrorism funding in his most recent budget.

President Donald Trump is reportedly insistent that the Republican tax reform bill be called the "The Cut Cut Cut Act."
Trump's proposed title for the legislation is being met with resistance on Capitol Hill.
House Ways and Means Committee Chairman Kevin Brady, R-Texas, has final say over the bill's name.