More data that shows we may already be in recession, and in line with the deceleration in bank lending:

Large downward revision to last month was larger than this month's gain:
Highlights

The construction spending report is often volatile and today's results are an example. The headline is up a solid 0.5 percent in August but July's decline, initially at 0.6 percent, has been downgraded sharply to minus 1.2 percent.

Spending on residential construction rose 0.4 percent but July's initial increase has been cut in half to 0.2 percent. Yet there is standout August strength in multi-family spending which rose 0.9 percent but is still short of reversing July's 1.2 percent decline. Single-family spending is constructive, at 0.3 and 0.4 percent gains the last 2 months. Home improvements are also positive, with gains of 0.5 and 0.3 percent.

Turning to the nonresidential side, spending rose 0.5 percent but follows declines of 1.4 and 1.2 percent in the prior 2 months. Transportation is leading the way in this group, up 4.4 percent on the month and 17.6 percent on the year. Manufacturing is the laggard, down 4.3 percent in August for a yearly 20.8 percent decline.

Public building has been weak all year though educational building did rise 3.5 percent yet is still down 2.8 percent from a year ago. Federal spending fell 4.7 percent in the month for an 8.3 percent decline.

Overall construction spending shows only a 2.5 percent year-on-year rise despite a very favorable 11.6 percent increase in residential construction. Yet residential starts and permits have been uneven pointing to the risk of slowing in the months ahead.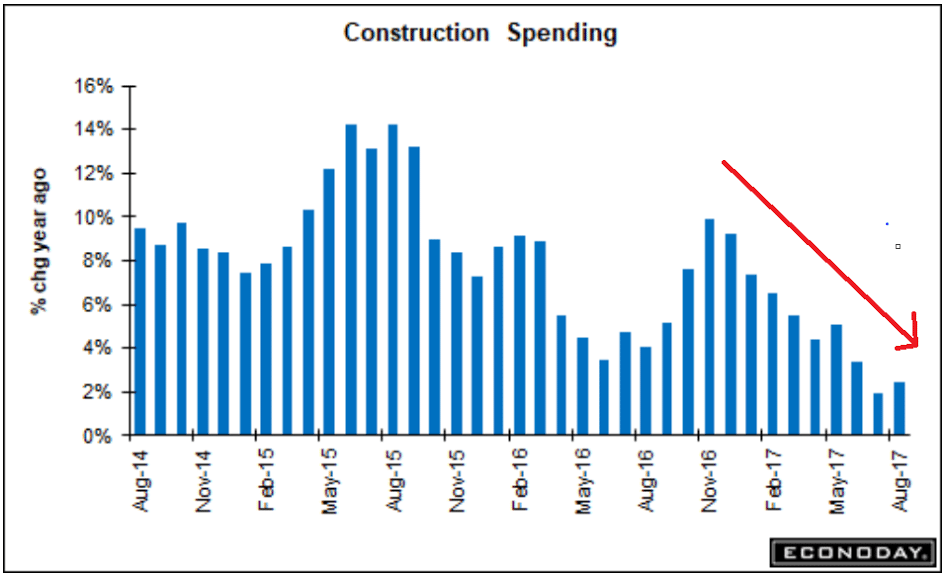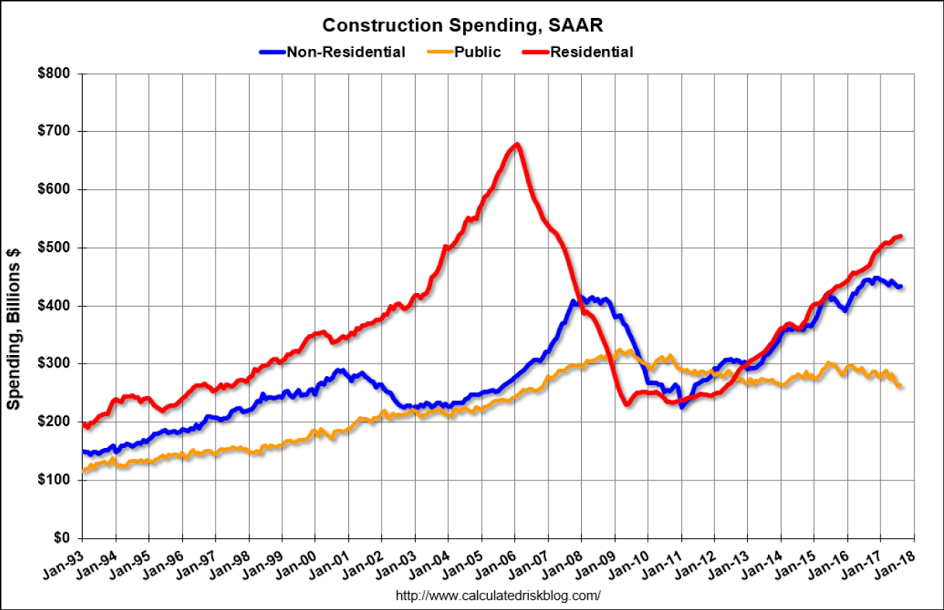 Surveys like this have been looking reasonably firm for quite a while, even as the 'hard data' continues to soften: