The story is the weakness is weather related, as was the cpi increase, though not the downward revision for the prior month. (I suppose getting control of the weather would be a useful policy tool for the Fed to hit its targets?)
The economy is to some degree path dependent, which in this case means that a slowdown in sales = a slowdown in income which can reduce future sales even after the weather issues clear up, especially given the declining growth rate real disposable personal income, the drop in the growth of borrowing, and the consumer dipping into savings to sustain spending.
In fact, with this month's report and the downward revisions, as per the chart it looks like consumer spending has gone flat, and is now more in line with the deceleration of the credit aggregates previously discussed:

"The Commerce Department said while it could not isolate the impact of Harvey on retail sales, it had received indications from companies that the hurricane had "both positive and negative effects on their sales data while others indicated they were not impacted at all."
from Morgan Stanley:
Eight of thirteen major categories saw increases in retail sales in August, while five categories saw substantial weakness that dragged down the overall sales figures. Weakness in retail sales in August was seen in motor vehicles and parts (-1.6%), electronics & appliance stores (-0.7%), building materials, garden equipment & supply dealers (-0.5%), clothing & accessory stores (-1.0%), and nonstore retailers (-1.1%). Positive results in the report were seen in miscellaneous store retailers (+1.4%), general merchandise stores (+0.2%), sporting goods, hobby, book & music stores up 0.1%, health & personal care stores (+0.1%), food & beverage stores (+0.3%), gasoline stations (+2.5%), and food services & drinking places (+0.3%).
While auto sales and sales at home improvement stores were weaker in August, we expect to see some bounceback in September. Early industry figures for September point to a large bounceback in auto sales, even before hurricane-related tailwinds kick in. We also expect that sales at home improvement stores will rebound in September as post-hurricane rebuilding efforts begin.
Core retail sales came in well below assumptions built into our 3Q GDP tracking, and combined with downward revisions to prior months. These factors led to a significant

downward revision to our 3Q GDP tracking estimate to 2.4% from 2.8% previously, with 3Q consumption now tracking at 2.0% vs 2.8% previously

.
Moreover, weakness in the home improvements category led to a downward revision in our tracking for 3Q residential investment to -3.6% from -2.8% previously.


Down due to weather issues, but otherwise probably chugging along at a modest pace:

Still a large and persistent trade surplus, which is fundamentally euro friendly:
The Euro Area trade surplus narrowed to EUR 23.2 billion in July 2017 from EUR 24.8 billion in the corresponding month of the previous year. Still, the reading came in above market expectations of EUR 21.4 billion.

Exports of goods to the rest of the world increased by 6.1 percent to EUR 177.7 billion from EUR 167.6 billion in July 2016, while imports advanced at a faster 8.2 percent to EUR 154.6 billion from EUR 142.8 billion. Intra-euro area trade rose to EUR 145.6 billion, up by 5.6 percent compared with July 2016.

In the the seven months to July, the trade surplus narrowed to EUR 130.2 billion from EUR 154.1 billion in the same period of 2016.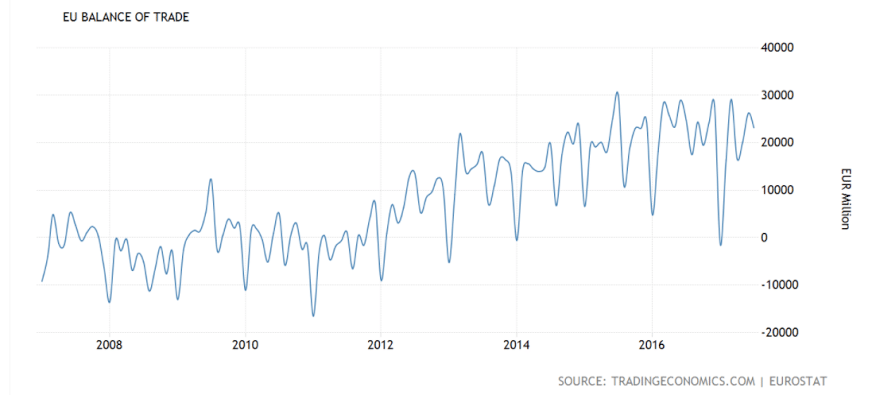 Week 36 of 2017 shows same week total rail traffic (from same week one year ago) improvedaccording to the Association of American Railroads (AAR) traffic data. The economically intuitive sectors are in contraction.