Factory orders, Euro charts, Oil prices
Manufacturing continues to muddle through:
Highlights

There's really only good news in the July factory orders report where the headline, at minus 3.3 percent, reflects a slowing in what were strong prior gains for aircraft orders. The best news is a 6 tenths upward revision to core capital goods orders (nondefense ex-air) to a 1.0 percent gain and a 2 tenths upward revision to core shipments, now at 1.2 percent. These numbers point to accelerating strength for third-quarter business investment.

Total shipments rose a moderate 0.3 percent in the month with inventories up only 0.2 percent. This takes the inventory-to-shipments ratio to a more lean and positive 1.37 from 1.38. Unfilled orders are not a positive, falling 0.3 percent after however a giant 1.3 percent build in June.

The split between the report's two main components shows a 0.4 percent gain for nondurable goods — the new data in today's report where strength is tied to petroleum and coal — and a 6.8 percent dip for durable orders which is unchanged from last week's advance report for this component. The total ex-transportation gain is a strong 0.5 percent vs June's 0.1 percent increase.

The core strength was posted despite weakness at the heart of capital goods and that's machinery where orders fell 0.9 percent though shipments of machinery did rise 0.2 percent. Today's factory orders report closes the book, one that includes a 0.1 percent decline in the manufacturing component of the industrial production report, on what was a mixed month for the factory sector.


Consumer demand not looking so strong:

Charts indicating underweight euro holdings: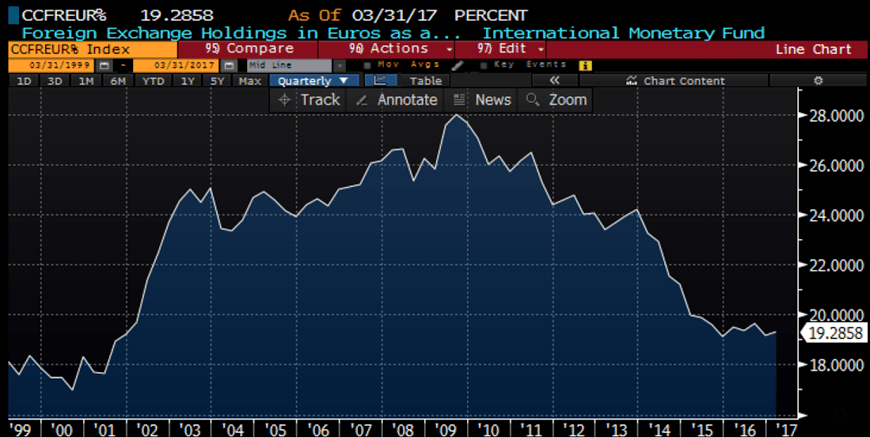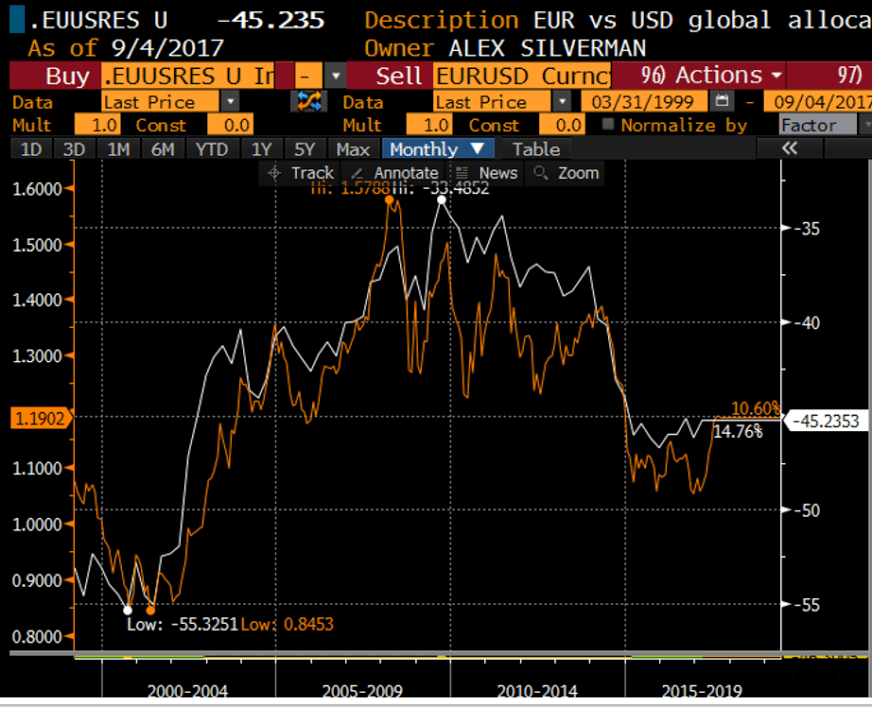 Seems Saudis are hiking prices, perhaps due to weaker $:
By Anthony DiPaola, Sharon Cho and Serene Cheong

Sept 4 (Bloomberg) —

State-run Saudi Aramco sets official selling price of Arab Light crude for Oct. sales to Asia at 30c/bbl premium to Oman-Dubai benchmark, according to emailed statement
Grade's OSP differential increased by 55c/bbl for Oct. vs Sept.
That's a larger increase than +35c m/m forecast in Bloomberg survey
READ: Saudis May Raise Oct. Arab Light Crude Price to Asia: Survey
Arab Super Light official price for Oct. set at $4/bbl premium to benchmark prices, +70c m/m
Arab Extra Light at $1.40/bbl premium to benchmark prices, +80c m/m
Arab Medium official price at 55c/bbl discount to benchmark prices, +35c m/m
Arab Heavy official price at $1.65/bbl discount to benchmark prices, +30c m/m
Aramco raises most pricing for buyers in U.S., Medium crude unchanged
Extra Light at $3.30/bbl premium to Argus Sour Crude Index benchmark, +50c/bbl m/m
Light at $1.30/bbl premium, +10c m/m
Heavy at $1.30/bbl discount to benchmark, +20c m/m
Aramco raises Extra Light pricing to NW Europe by 65c/bbl m/m to discount of 45c/bbl to ICE Brent crude benchmark; co. cuts rest of grades
Light to $2.15/bbl discount, -10c m/m
Medium to $3.10/bbl discount, -10c m/m
Heavy to $4.40/bbl discount, -30c m/m
Aramco raises all grades to Mediterranean region
Extra Light to 40c/bbl discount to ICE Brent, +95c m/m
Light to $2.10/bbl discount, +30c m/m
Medium to $3.20/bbl discount, +20c m/m
Heavy to $4.15/bbl discount, +5c m/m