Still soft, also somewhat in line with decelerating bank mortgage lending: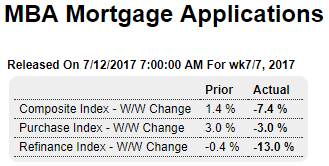 Highlights

Purchase applications for home mortgages fell a seasonally adjusted 3 percent in the July 7 week, while applications for refinancing fell 13 percent from the previous week to the lowest level since January 2017. The refinance share of mortgage activity fell 2.8 percentage points to 42.1 percent. The decline in applications was registered despite adjustments for the Fourth of July holiday. On an unadjusted basis, purchase applications were down a much sharper 22 percent from the previous week. The weekly decline shaved the year-on-year purchase index gain by 3 percentage points to 3 percent. Along with the midweek holiday, rising mortgage undoubtedly took their toll on mortgage application activity. After rising 7 basis points in the prior week, the average interest rate on 30-year fixed rate conforming mortgages ($424,000 or less) rose another 2 basis points to 4.22 percent.
First 'weak' report in a long time. And not to forget the Fed sees it their role to manage expectations…

Highlights

Wages are on the rise but only a modest-to-moderate rise, with economic growth described as slight-to-moderate across the Federal Reserve's 12 districts. And a few of the districts are now saying that overall price pressures have eased. Consumer spending is rising in most districts but at a slower pace. Two districts, Cleveland and Philadelphia, are reporting slowing in overall growth. Two other districts, Atlanta and St. Louis, are reporting flat employment levels.

This edition, especially the descriptions of inflation and the introduction of the word "slight" for the downside description of growth, is perhaps the weakest Beige Book so far this year. There are, however, indications of strength with the report noting that qualified workers are in short supply and the labor market is continuing to tighten for both skilled and unskilled labor and especially in the construction and high-tech sectors.
Still no evidence he's capable of any adult thought whatsoever:
Donald Trump claims Russia's Vladimir Putin would be happier with a Hillary Clinton presidency.
The president claims that his 2016 election opponent would have spent less on the military and focused less on the traditional energy sector.
His comments come amid renewed focus on his campaign's interactions with individuals tied to the Kremlin.