A better than expected number but as per the chart, the year over year rate of growth continued its downtrend which began about 2.5 years ago when oil capital expenditures collapsed.
Since GDP growth is the sum of the 'pieces' that make up GDP, if any piece contributes less to growth than it did last year, another must contribute more or the growth of GDP will be lower. So far this year we've seen a slowing of growth vs last year in vehicle sales, home sales, consumer spending, etc. as well as employment growth, all mirrored in the deceleration of bank lending that intensified about 6 months ago: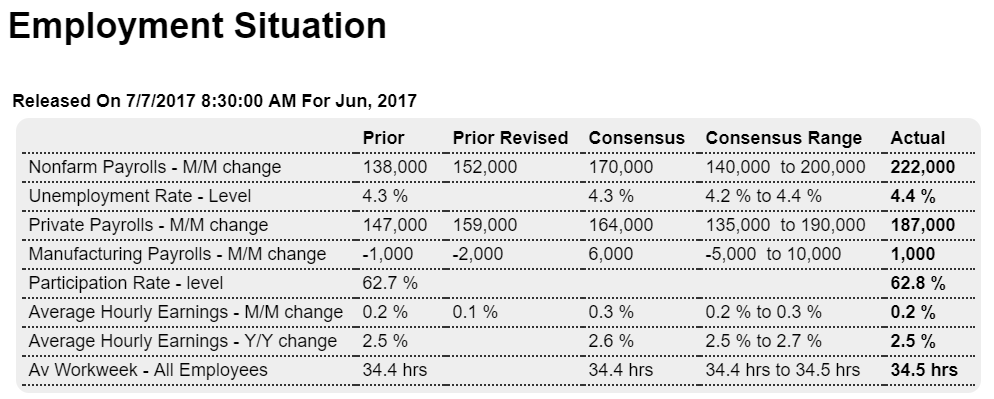 Highlights

The split between strength in demand for labor and weakness in wages is more acute than ever after the June employment report which shows a significant upgrade to payroll growth but a flat line for average hourly earnings. Nonfarm payrolls surged 222,000 in June with revisions to prior months adding another 47,000. The last 3 months of payroll growth had been very soft but have now have been revised away. Not revised away is earnings which could manage only a 0.2 percent gain in June with May, which was already weak, revised down 1 tenth to only a 0.1 percent monthly gain. Year-on-year, wages are lifeless at 2.5 percent. The weakness points to low wage, low productivity jobs.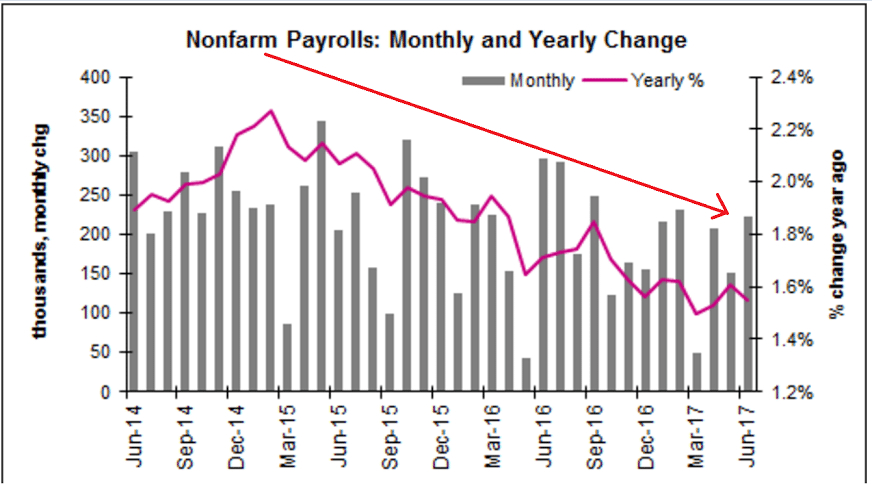 No sign of excess demand pressures building here:

Without growth of govt. employees there's a lot more room for growth of private sector employment, but it requires an appropriate fiscal balance:

This sounds like a shift to patches for what we have now, rather than 'repeal and replace'? Problem is, the patches will only be temporary, as what we have now is logically unsound, as was what we had before and what's been proposed so far…
Jul 7 (Axios) — Senate Majority Leader Mitch McConnell has made it clear he doesn't want to negotiate with Democrats on health care — but he's no longer dismissing the option. Here's what he said today at a Rotary Club lunch in Kentucky when asked whether he might need bipartisan cooperation to pass a health care bill, per AP: "If my side is unable to agree on an adequate replacement, then some kind of action with regard to the private health insurance market must occur … We've got the insurance markets imploding all over the country, including in this state."
This reads to me as total nonsense as well. If you're not going to let people 'die in the streets' as a point of logic you've got single payer, which most of Congress is ideologically against. No telling how long it will take them to come around to that but it doesn't seem like it's anytime soon:
Jul 7 (Axios) — Sen. Mike Lee won't vote for the Senate GOP health care bill without the addition of a controversial amendment he's championing with Sen. Ted Cruz — a position he has made clear to the White House and Senate Republican leaders. "The entire bill is unacceptable without the Consumer Freedom Option," Conn Carroll, Lee's spokesman, wrote in an email. This proposal would allow insurers to sell health plans that don't comply with Affordable Care Act rules, like pre-existing conditions protections or essential health benefits, as long as they also sell plans that meet all of those rules.