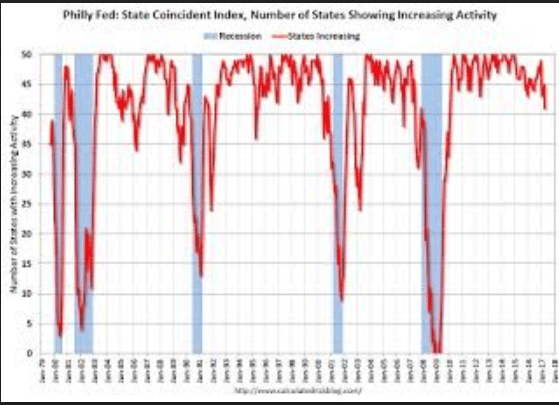 As previously discussed, seems to me it's unlikely any of the trumped up expectations will
come to pass:
McConnell: 'I don't know how we get to 50' votes on ObamaCare repeal (The Hill) Senate Majority Leader Mitch McConnell says he doesn't know how Senate Republicans are going to get enough votes to pass an ObamaCare replacement bill. "I don't know how we get to 50 [votes] at the moment. But that's the goal," McConnell told Reuters in an interview Wednesday. McConnell opened the interview by saying "There's not a whole lot of news to be made on healthcare." The majority leader expressed more optimism about tax reform, calling chances for passage "pretty good" and saying it is "not in my view quite as challenging as healthcare."
So much for the border tax and eliminating business interest deductions:
Ryan: House could pass bill that doesn't include border tax (The Hill) Speaker Paul Ryan said Wednesday that he can see a scenario in which the House passes a tax reform bill that does not include a border-adjustment tax. Ryan said that congressional Republicans and the White House agree on about 80 percent of the elements of tax reform and are discussing how to broaden the tax base to pay for lower tax rates. "A border adjustment basically taxes the trade deficit, gets you revenue to lower your tax rates," he said. "If you're not going to tax our trade deficit, like every other country does, then you'll have to get your base broadening from within the country. And that's the kind of conversation we're going to have all summer long."
Mnuchin wants to keep deduction for businesses' interest expenses (The Hill) "On the business tax, my preference is to maintain interest deductibility, which is important for small- and medium-sized businesses," Treasury Secretary Steven Mnuchin said during a House Ways and Means Committee hearing. Mnuchin added, however, that the administration is looking at the deduction "like everything else that's on the table." The House GOP blueprint proposes eliminating the deduction for businesses' net interest expenses because it would instead allow businesses to immediately deduct the full costs of their capital investments.
Nor has this stuff gone away:
Freedom Caucus opposes clean debt ceiling increase (The Hill) The conservative House Freedom Caucus said on Wednesday that it opposed a "clean" increase of the debt ceiling. "We oppose any clean raising of the debt ceiling, we call for the debt ceiling to be addressed by Congress prior to the August Recess, and we demand that any increase of the debt ceiling be paired with policy that addresses Washington's unsustainable spending by cutting where necessary, capping where able, and working to balance in the near future," an official statement from the caucus said. If all 30 members of the Freedom Caucus oppose a "clean" increase, the House would need Democratic support in order to raise the debt ceiling.
No comment…
;)
Trump slams North Korea leader as a 'madman' who cannot be let on the loose (Reuters) In a call last month with the Philippines' president, U.S. President Donald Trump described North Korea's leader Kim Jong Un as a "madman with nuclear weapons" who could not be let on the loose, according to a leaked Philippine transcript of their call.
And 100 years ago, in the year 2017, we now have evidence that the mighty tech gurus had no idea how their own monetary system worked:
Mark Zuckerberg joins Silicon Valley bigwigs in calling for government to give everybody free money