Note that there was little or no demand from member banks to borrow from the regional reserve banks, yet they decided the rate needed to be higher…
;)
All but one bank requested to raise an interest rate the U.S. central bank places on its loans to commercial banks for the month of December, according to Federal Reserve Board discount rate minutes released on Tuesday.

The Federal Reserve Bank of Minneapolis asked to leave the discount rate unchanged, according to Fed minutes. The Board of Governors raised the discount rate in December to 1.25 percent from 1 percent.

Fed directors cited further improvement in the economy, strong consumer spending and a pickup in manufacturing, according to the minutes, and most directors see positive developments in the labor markets.

Nine Fed members voted to raise the discount rate in November.
Release Date: January 10, 2017

For release at 12:00 p.m. EST
The Federal Reserve Board on Tuesday announced preliminary results indicating that the Reserve Banks provided for payments of approximately $92.0 billion of their estimated 2016 net income to the U.S. Treasury. The 2016 audited Reserve Bank financial statements are expected to be published in March and may include adjustments to these preliminary unaudited results.

The Federal Reserve Banks' 2016 estimated net income of $92.7 billion represents a decrease of $7.6 billion from 2015, primarily attributable to a decrease of $2.5 billion in interest income from changes as a result of the composition of securities held in the Federal Reserve System Open Market Account (SOMA) and an increase of $5.2 billion in interest expense associated with reserve balances held by depository institutions. Net income for 2016 was derived primarily from $111.1 billion in interest income from securities held in the SOMA (U.S. Treasury securities, federal agency and government-sponsored enterprise (GSE) mortgage-backed securities, and GSE debt securities). Operating expenses of the Reserve Banks, net of amounts reimbursed by the U.S. Treasury and other entities for services the Reserve Banks provided as fiscal agents, totaled $4.0 billion in 2016. In addition, the Reserve Banks were assessed $700.7 million for the costs related to producing, issuing, and retiring currency, $709.0 million for Board expenditures, and $596.2 million to fund the operations of the Consumer Financial Protection Bureau. The Reserve Banks had interest expense of $12.0 billion associated with reserve balances and term deposits held by depository institutions, and incurred interest expense of $1.1 billion on securities sold under agreement to repurchase. Additional earnings were derived from income from services of $435 million. Statutory dividends paid to member banks totaled $711.5 million in 2016. No income was transferred to surplus due to the $10 billion aggregate surplus limitation as required by the Federal Reserve Act.

Again, this is fundamentally strong euro stuff, however there's no telling when 'portfolio manager' selling will run it's course: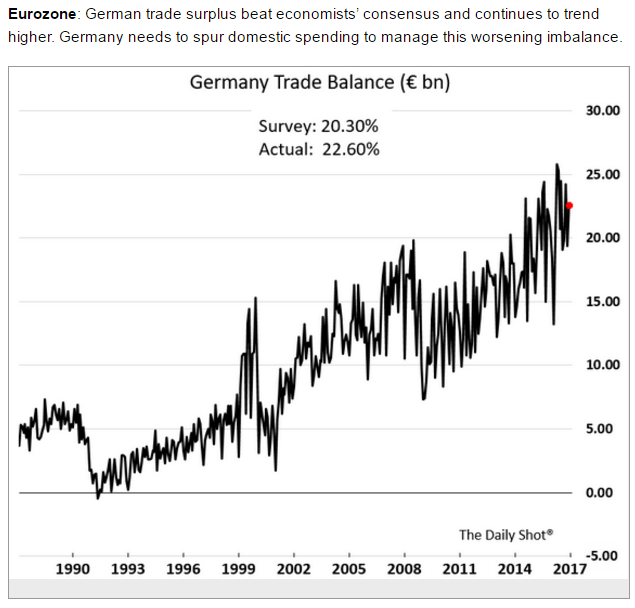 A Quinnipiac University poll released Tuesday showed 64 percent of voters surveyed think Trump should not keep a personal Twitter account while in the White House. Only 32 percent of those polled said he should maintain his personal account.

Republican voters narrowly said Trump should keep his account by a 49 percent to 45 percent margin. Only 18 percent of Democrats said he should maintain his personal account, while 80 percent said he should not. Independents said he should scrap his account by a 65 percent to 31 percent margin.

Voters who are 18 to 34-years-old most strongly said Trump should get rid of his account, with 71 percent supporting the move.