Trade deficit moving back out. I expect a lot more to come this quarter and next. Oil is getting more expensive and the quantity imported is up as well. The 'one time' soybean export bulge is behind us, and global trade in general has slowed.
Wouldn't surprise me if Trump responds by having the US start buying foreign currencies, which would send the dollar lower to offset 'foreign currency manipulation'. And, of course, he'd show a 'profit' in fx purchases as the dollar falls:

Highlights

The nation's trade deficit widened substantially in October, to a higher-than-expected $42.6 billion and reflecting a 1.8 percent decline in exports and a 1.3 percent rise in imports. The nation's trade deficit in goods totaled $63.4 billion offset only in part by a small rise in the trade surplus in services to $20.8 billion.

Goods exports were soft across the board including for foods/feeds/beverages (down $1.4 billion in the month) and also industrial supplies (down $1.0 billion). Exports of consumer goods fell $0.9 billion with exports of capital goods, barely in the plus column, held down by a $0.6 billion dip in civilian aircraft. The offset is services exports which at $63.3 billion is the highest on record and largely reflects global demand for the nation's technical and managerial services.

The import side of the data show heavy U.S. buying, at a $231.3 billion total in the month which the highest since August last year. Details show a $1.1 billion increase in capital goods which is a negative for the national accounts but a positive for the nation's productive investment. Imports of consumer goods shot up $2.4 billion ahead of the holidays.

By country, the gap with China narrowed by $1.4 billion to $31.1 billion reflecting unusually high U.S. exports to China. The gap with the EU widened to $13.1 billion, with Mexico to $6.2 billion and with Japan to $5.9 billion.

The widening trade deficit in October gets the net export component of fourth-quarter GDP on the wrong foot.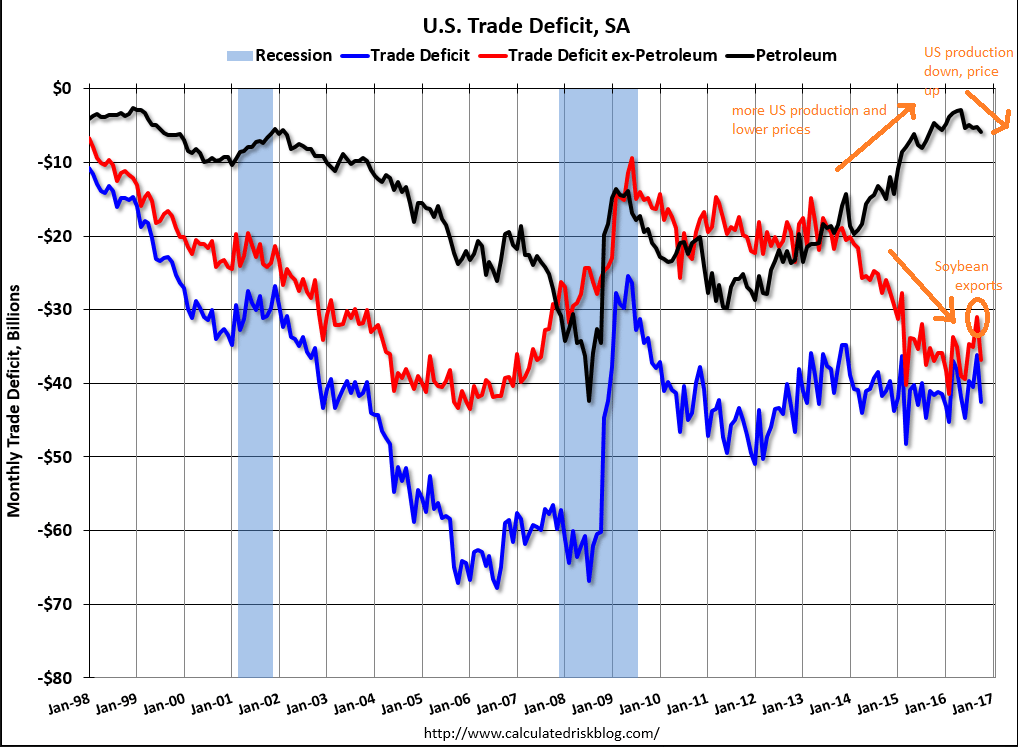 As previously discussed, manufacturing is a lot smaller than the service sector, and after falling to lower levels with the collapse in oil related capital expenditures growth is resuming at the lower levels, as the lack of aggregate demand moves deeper into the service sector:

Highlights

October was a very strong month for the factory sector as durable goods orders rose 2.7 percent. Aircraft (both civilian and defense) was October's special strength, excluding which the gain in orders falls sharply but still comes in at a very solid 0.7 percent. Another plus in the report is a 3 tenths upward revision to September to plus 0.6 percent, a gain driven by an upgrade for aircraft orders in that month.

Core capital goods orders (nondefense excluding aircraft) did rise in October but not much, up only 0.2 percent and well short of offsetting a 1.5 percent decline in September. Weakness here points to trouble for business investment in the fourth-quarter GDP report. And shipments for this category have gotten off to a bad start in the quarter, down 0.1 percent in October.

But other readings are favorable including a useful 0.4 percent rise in total shipments and a 0.7 percent gain for unfilled orders which had been in long contraction. Inventories are not a problem in the sector, unchanged in the month with the stock-to-sales ratio holding at 1.34.

Advance readings on factory conditions in November have been mostly positive which, together with this report and a respectable 0.3 percent gain for the manufacturing component of the industrial production report point to year-end momentum for a sector that has otherwise had a flat 2016.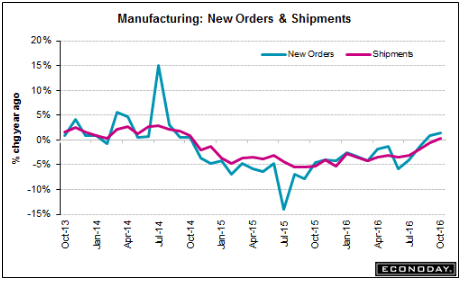 Inventories still high and working their way lower:


Growth falling back from the mini spike up. A 'normal' economy, before the collapse in oil capex, used to show 3-4% increases and more: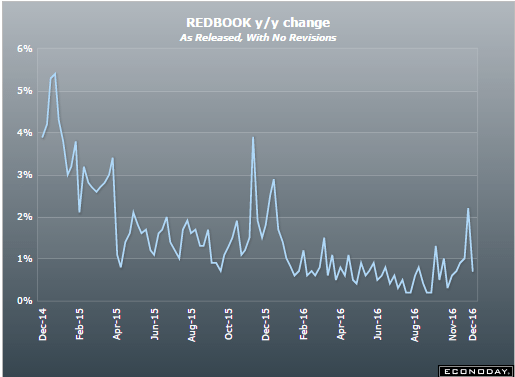 Looks like a price cut, indicating they don't want prices up quite this high?

*Saudi arabia cuts all Jan OSPS to US except for extra light
*Saudi Arabia raises diffs on all grades to NWEur/MED
*Saudi Jan Arab Light to Asia at -75c vs plus 45c
*Saudi cuts Jan pricing for light crudes to Asia.

The job of the executive branch, headed by the President, is to enforce the law.
And it's perfectly legal for companies to move production, etc. to other countries.
However, the President elect is seeking to have companies that are acting legally alter their business plans by using leverage/retribution such as threatening tariffs and altering govt. contracting terms and conditions.
Unconstitutional abuse of executive power?