Chain store sales, PMI and ISM surveys, Construction spending, Auto sales, Delinquencies
Highlights

Chain stores are reporting mixed to lower year-on-year rates of November sales compared to October. Today's results do not hint at another month of strength for the government's ex-auto ex-gas retail sales reading which posted very strong monthly gains of 0.6 percent and 0.5 percent in October and September.
Manufacturing muddling through at current levels:
Markit Manufacturing PMI:
Highlights

Durable orders picked up in October and the momentum appears to have extended to November, based on the sum of advance indications on the month including the ISM manufacturing composite which is up a solid 1.3 points to 53.2. Growth in new orders improved 9 tenths to a more respectable 53.0 with export orders holding over break-even 50 at 52.0. Production rose 1.4 points in the month to 56.0 with supplier deliveries showing significant delays and perhaps demand-related congestion in the supply chain, up 3.5 points to 55.7 and contributing significantly to the strength in the headline composite.

Other details include little change for inventories or backlog orders and modest growth in employment, down 6 tenths to 52.3. Prices paid shows moderate upward pressure, unchanged at 54.5.

This report is a little less hot than other November indications including from the Philly Fed, but the direction it points to is favorable.
Up, and last month revised higher as well. Year over year up 3.4%, remaining historically low:
Highlights

Construction spending rose a solid 0.5 percent in October with the prior two months both revised sharply higher, up 4 tenths from the initial estimate for September to unchanged and up a full percentage point for August which, like October, now stands at 0.5 percent. Today's revisions point to an upward revision for third-quarter GDP.

Residential is the strong suit in the October report with both single-family and multi-family homes up 2.8 percent in the month, gains offset in part by a contraction in home improvements. Private nonresidential fell 2.1 percent in the month though public spending shows solid gains led by the Federal government and including highways and streets.

This report is noted for its volatility and the October edition only adds to the reputation. Construction may not be quite as flat as it appeared in prior months in what may perhaps be a positive not only for fourth-quarter GDP but even perhaps for construction payrolls in tomorrow's employment report.
This is not adjusted for inflation:


Anything under 5% annual growth has been associated with recession:
Highlights

With about half the results in, November unit vehicle sales are trailing October's results and are about in line with the Econoday consensus for a 2.7 percent decline to a 17.8 million annualized rate. The early results point to softness for the motor vehicle component of the government's retail sales report which posted very strong gains of 0.8 percent and 0.7 percent in October and September.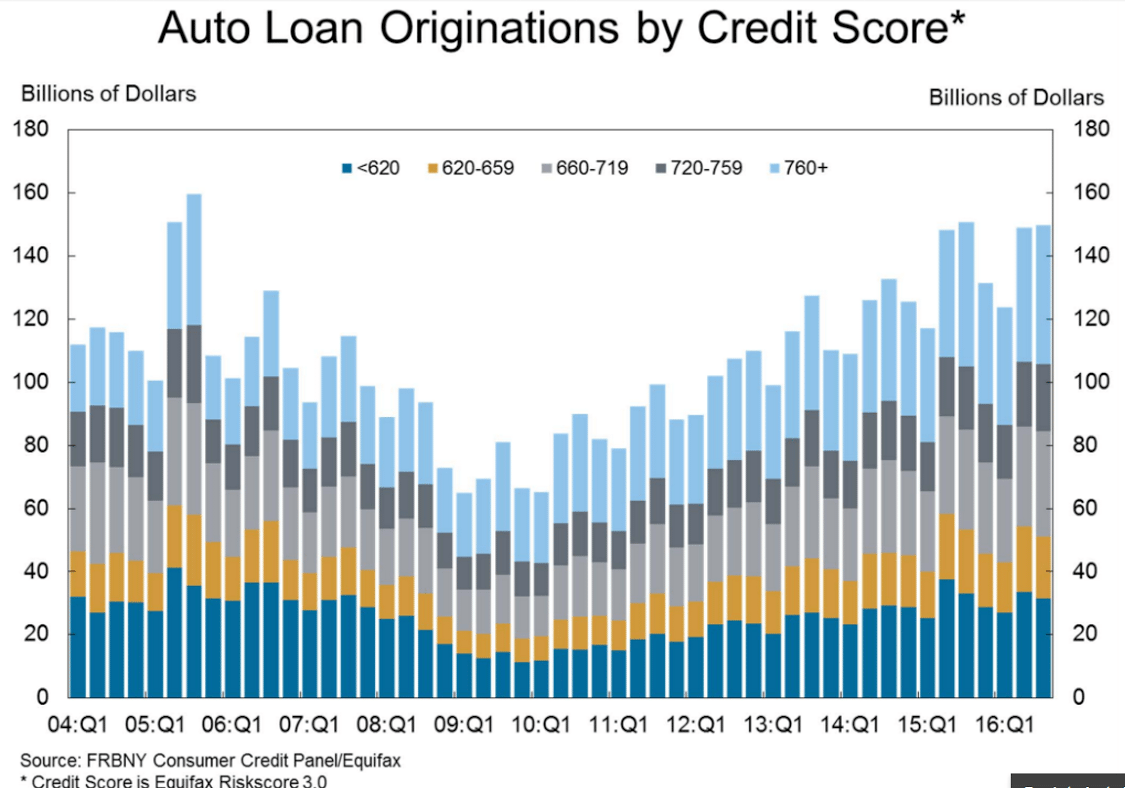 Rising bank loan delinquencies have historically been associated with recessions: