Good report, driven by autos, which were up from last month though down from last year. However, on a year over year basis vehicles sales if anything seem to be moderately declining, and so won't be contributing to growth as they had in the past. So a glimmer of hope here, but guarded to say the least:
Highlights

The consumer started the fourth-quarter better than expected and finished the third-quarter even stronger than that. Retail sales jumped 0.8 percent in October with September revised 4 tenths higher to plus 1.0 percent. The data show wide gains for both months led by the most important component of all, autos which rose 1.1 percent in October on top of September's 1.9 percent surge. Building materials & garden equipment are also very strong, up 1.1 percent following September's 1.8 percent gain with both pointing to strength for residential investment. Non-store retailers are also a standout and reflect strength in e-commerce, up 1.5 percent and up 0.9 percent in the two months.

Excluding autos doesn't pull down the gain at all in October, at plus 0.8 percent, and only shaves 3 tenths from September where the ex-auto reading is a revised plus 0.7 percent. Price effects for gasoline are giving the data a boost but nothing severe with the ex-auto ex-gas gains at 0.6 percent and 0.5 percent for September.

This is a very impressive report and will raise estimates for fourth-quarter GDP and raise revision estimates for third-quarter GDP. Strength in the labor market is having its positive effects on the consumer.
Retail sales also received a boost from receipts at service stations, which advanced 2.2 percent on rising gasoline prices.
7.6% jump in health care related sales, 10 months this year vs last year:

The chart shows retail sales, not adjusted for inflation, have been running near 'stall speed' for a while, and blips up like this tend to revert back, so best to reserve judgement here regarding strength of the economy:

Just making the point here that these types of levels of growth have been consistent with recession in the past:

The move up in autos was in light weight truck, which the chart shows zig zags up and down, though generally moving higher:


Another better than expected report, but note that employment isn't looking so good:

Highlights

The Empire State report has been soft but is showing life this month, at a headline 1.5 for November for the first positive reading since July. New orders are up a modest but still constructive 3.1 in November though unfilled orders remain deeply in the negative column at minus 12.7. Shipments are up, at plus 8.5 following two months of decline, but employment continues to contract, at minus 10.9. Costs and selling prices are in the plus column but moderating. Also moderating is the 6-month outlook, down 7.1 points to 29.9 which is on the soft side for this reading. Still, the gain for new orders and shipments are important positives in this report which, if confirmed by strength in Thursday's Philly Fed report, may begin to lift expectations for what has been a stubbornly flat factory sector.

Highlights

This morning's October retail sales report is very strong, in contrast to Redbook's same-store sample which remains soft, at a year-on-year plus 0.9 percent in the November 12 week. Still, the gain is the best since mid-October and if extended to the coming weeks could point to another strong retail sales report for November.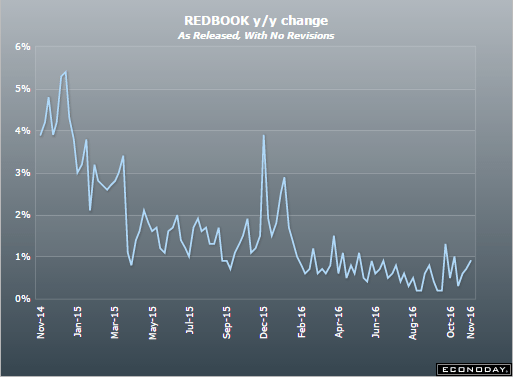 Inventories are working their way lower, but still too high, and so continue to be a drag on output:
Highlights

Inventories proved tame in September, rising only 0.1 percent against a sharp 0.7 percent gain in sales that pulls the inventory-to-sales ratio one notch leaner to 1.38 from 1.39. High levels of inventories were a concern going into the fourth quarter but this morning's very strong retail sales report may in fact point to the need to build inventories further.