As per the chart, the deceleration of employment growth continues in what's now been a very steady decline going on 2 years. And with employment growth decelerating at this rate it's likely the unemployment rate will remain elevated indefinitely:
Highlights

Solid payroll growth is not the whole story of the October employment report. Average hourly earnings are rising, up an outsized 0.4 percent in the month with the year-on-year rate, at 2.8 percent, suddenly near 3.0 percent and at its recovery peak. Nonfarm payroll growth is very respectable, up 161,000 for nonfarm payrolls with upward revisions adding a net total 44,000 to September (191,000) and August (156,000). The unemployment rate is down 1 tenth to 4.9 percent and, for some, is already signaling full employment for the labor market.

Government payrolls rose a moderate 19,000 in October, excluding which private payrolls came in at 142,000 vs September's 188,000. Construction, adding 11,000, is a highlight after adding 23,000 in the prior month, and professional services along with temporary services extended their gains. Manufacturing once again posted a decline.

But negatives are scarce in this report, where strength is emphatically underscored by the unexpected acceleration in average hourly earnings which further includes an upward revision to September. Today's report marks a solid opening to fourth-quarter data and will raise talk of a wage-inflation flashpoint and a rate hike for the December FOMC.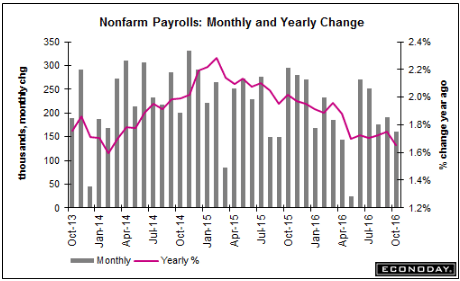 Sound the alarm over this?

This includes 'supervisors' and remains below levels of the prior recession: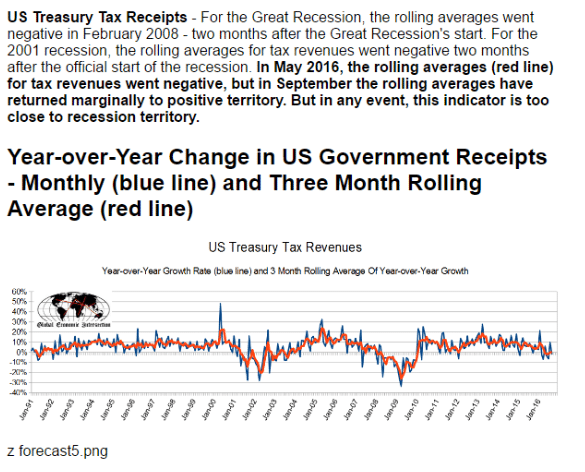 They are price setters, not price takers:
By Sam Welkin

Nov 3 (Bloomberg) — Saudi Aramco increases Dec. pricing for Arab Light to Asia by 90c/bbl to premium of 45c over regional benchmark, state-owned co. says in e-mailed statement.

Aramco raises Arab Light pricing to NW Europe by 70c/bbl, to Mediterranean region by 15c/bbl compared w/ benchmarks
Co. leaves pricing for U.S. sales of Extra Light, Arab Light, Medium grades unchanged for Dec.; cuts pricing for Arab Heavy to U.S. by 40c/bbl
NOTE: Saudis Said to Raise Arab Light Oil Pricing to Asia for December