Mortgage purchase applications are now down to only 5% higher than a year ago:

A lot worse than expected:
Highlights

Business growth has slowed in Chicago this month based on the city's PMI which fell more than 4 points but, at 51.5, is still over breakeven 50. New orders slowed while backlogs fell sharply and into sub-50 contraction. Production also slowed while inventories were drawn down. Employment posted a gain and is the strength of the August report, strength however that isn't likely to improve further unless orders rebound.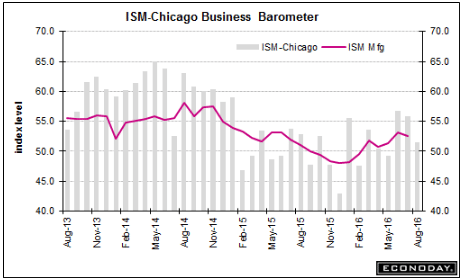 The downward slope in year over year growth since oil capex collapsed continues:

Large downward revision to June, and July remains suspect for another month when it gets revised. Meanwhile, the year over year numbers show little or no growth, much like the growth in permits for new construction:

Highlights

Pending home sales jumped higher in July but from a June that is now revised sharply lower. The July index came in at 111.3, a level that is only marginally above June's initial reading of 111.0 but is 1.3 percent above the revised level of 109.9. The index hit a recent peak in April at 115.0.

Looking at the year-on-year rate, pending sales are up 1.4 percent which doesn't point to much acceleration ahead for final sales of existing homes where this rate in July slipped into the negative column for the first time in two years.

Regional data show the West out in front after a sharp rise in July, at a year-on-year plus 6.2 percent followed by the Northeast at 1.1 percent and the South at 0.4 percent. The Midwest is only the region in the negative column, though only at 1.1 percent.

Sales of existing homes aren't showing the life that sales of new home sales are showing though strength in the latter does point to strength ahead for the resale side.