Empire manufacturing index, Housing market index, Hotel occupancy
Just another bit of bad news:

Highlights
The New York region's manufacturing sector remains flat based on the Empire State index which came in slightly below zero at minus 4.21 in August vs plus 0.55 in July. New orders are especially flat, at plus 1.04 vs July's minus 1.82, with unfilled orders extending a long run of negative readings at minus 9.28. There is, however, strength in shipments, at 9.01, but it won't last long given the weakness in orders. Employment is also flat, at minus 1.03. Prices are steady with input pressures moderate and easing and selling prices fractionally higher. A special negative in the report is a 5.50 point decline in the 6-month outlook to 23.74 which is the least optimism this sample has shown since February. Hit by weak global demand and weak demand for capital goods, the factory sector has yet to get in gear this year and this report, the first for August, doesn't point to any improvement.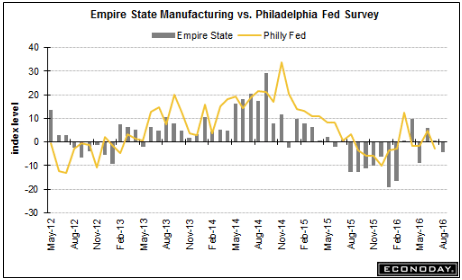 Up a bit but the chart tells me nothing's going on here:
From the NAHB: Builder Confidence Rises Two Points in August

Builder confidence in the market for newly constructed single-family homes in August rose two points to 60 from a downwardly revised reading of 58 in July on the National Association of Home Builders/Wells Fargo Housing Market Index (HMI).

Read more at http://www.calculatedriskblog.com/#me4luWJRvTtC522q.99
Interesting way of saying occupancy is down from last year…
;)
By Bill McBride

From HotelNewsNow.com: STR: US hotel results for week ending 6 August

The U.S. hotel industry reported mixed results in the three key performance metrics during the week of 31 July through 6 August 2016, according to data from STR.

In year-over-year comparisons, the industry's occupancy decreased 1.6% to 75.6%. However, average daily rate was up 2.7% to US$127.69, and revenue per available room increased 1.1% to US$96.59.

Read more at http://www.calculatedriskblog.com/#me4luWJRvTtC522q.99