Same story, depressed and growing too slowly to matter:
MBA Mortgage Applications

Highlights
Purchase applications for home mortgages managed to rise 1.0 percent in the April 29 week, but refinancing continued to decline, down 6.0 percent after falling 5.0 percent in the prior week. Though purchase applications are 13 percent higher than the same week a year ago, the year-on-year gain has narrowed sharply from the 30 percent gains seen as recently as March. Rates crept slightly higher, with the average 30-year mortgage for conforming loans ($417,000 or less) up 2 basis points to 3.87 percent.
Weak:

ADP Employment Report

Highlights
Consumer spending and economic growth are slowing and now the labor market, at least based on ADP's estimate, is softening. ADP sees private payrolls rising only 156,000 in April for what would be one of the weakest prints of the economic cycle and the lowest since 142,000 in February 2014. ADP, whose reputation as a leading indicator isn't perfect, has nevertheless been on a 4-month hot streak and today's report is certain to raise talk of trouble for Friday's employment report.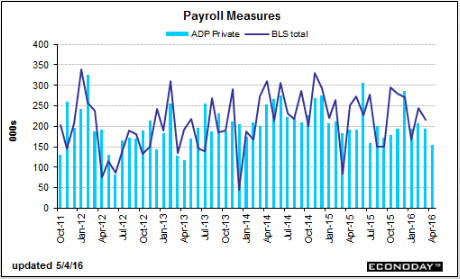 And here's the year over year growth chart. Can you spot the point where oil capex collapsed? ;)

Global trade continues its collapse:

Highlights
The nation's trade gap narrowed in March but, unfortunately, is not a positive for the economic outlook. The gap came in at $40.4 billion in March vs a revised $47.0 billion in February and largely reflects a downgrade for imports which fell 3.6 percent in the month vs the prior month's 1.3 percent rise. Contraction in imports, though a positive for the gap, is however a negative indication for domestic demand, especially in this report as consumer goods show unusual weakness. And indications on foreign demand are also negative with exports, despite the positive effects of this year's depreciation in the dollar, slipping 0.9 percent vs February's 1.1 percent rise.

Imports of consumer goods fell a very steep $5.1 billion in the month followed, in yet another major negative, by core capital goods which fell $1.6 billion. The former points to weak consumer demand and the latter points to weakness in business expectations. Oil was not a factor on the import side, averaging $27.68 per barrel vs February's $27.48 and making for a total petroleum deficit of $3.0 billion vs February's $3.5 billion deficit.

Weakness on the export side is also concentrated in consumer goods, down $1.6 billion in the month, and includes a separate $0.7 billion decline for autos. Industrial supplies are also down. One positive is a $1.3 billion rise in core capital goods which, however, follows a long string of declines. A solid positive is a further gain for service exports, up 0.5 percent in the month and generally reflecting demand for the nation's technical and managerial expertise.

The nation's gap with China, reflecting the decline in imported consumer goods, narrowed very sharply, to $20.9 billion in March from February's $28.1 billion. The narrowing with China offset widening gaps with the EU, at $13.1 billion, and with Mexico, at $5.4 billion, and also with Japan, at $6.7 billion.

Trade data are always very revealing, in this case pointing unfortunately to declining cross-border demand and showing little benefit, at least so far, from this year's decline in the dollar.
Factory orders and shipments continue in negative territory on a year over year basis:


A bit of improvement here but still looking like growth in this sector will be lower this year than it was last year, and may still be trending lower: