Continues very strong. This is for member using the euro:

By Kris Hudson

Aug 18 (WSJ) — Of the 206,000 homes that went under construction in the second quarter, the median size was 2,479 square feet. That was 40 square feet smaller—or about the size of a walk-in closet—than the high set in the first quarter. The National Association of Home Builders estimates that first-time buyers, who tend to purchase entry-level homes, will account for 18% of new-home sales this year. That is up from 16% last year but still well short of their share of 25% to 27% from 2001 to 2005. Then, quarterly median sizes for new homes ranged from 2,051 to 2,263 square feet.
Maybe reduced value conflicts between boomers and their kids vs boomers and their parents are contributing to keeping kids at home?
No improvement in purchase apps here. Been largely flat for the last several months now:
MBA Mortgage Applications

Consumer Price Index

Highlights
Inflation wasn't brewing in July and with oil prices moving lower, inflation may not be showing much pressure in August either. The consumer price index rose only 0.1 percent in July as did the core, both under expectations. Year-on-year rates show slightly more pressure. Overall inflation is up 0.2 percent, which is very low but up from 0.1 percent in the prior month and the second positive reading of the year. The core is steady at plus 1.8 percent which is just under the Fed's 2 percent target.

Gasoline moved sharply higher in July, up 0.9 percent following outsized gains of 3.4 percent and 10.4 percent in the prior two months. But with gas prices moving steadily lower this month, the upward effects of gasoline will be turning downward in August. Another major component showing upward pressure in July is apparel which rose 0.3 percent following, however, a long string of declines. Owners equivalent rent continues to show pressure, up 0.3 percent on top of June's outsized gain of 0.4 percent.

Elsewhere, however, pressures are hard to find with electricity down 0.4 percent, used vehicles down 0.6 percent, new vehicles down 0.2 percent, and airfares down 5.6 percent. Medical, drugs, and education all rose only 0.1 percent.

There may be some upward creep in the headline year-on-year rates but, given the ongoing decline in oil, this report won't be pushing the Fed for a September rate hike.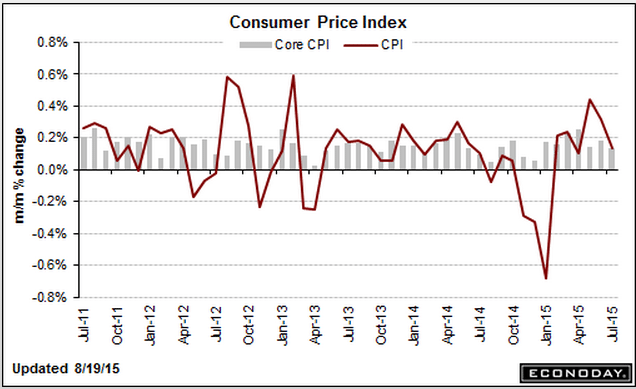 Rents have been moving up some, though still at a modest rate. Seems to me as per the depressed housing starts prices haven't yet gotten close enough to replacement costs. Once they do get to replacement cost, market forces work to increase supply as 'demanded' without further 'catch up' price increases. At that point price increases come from increases in costs.
Also, lower utility costs for the landlord that aren't passed through to the renter 'count' as higher rents, which means the drop in fuel and utility costs translate to increased rents when, for example, the actual payment remains the same: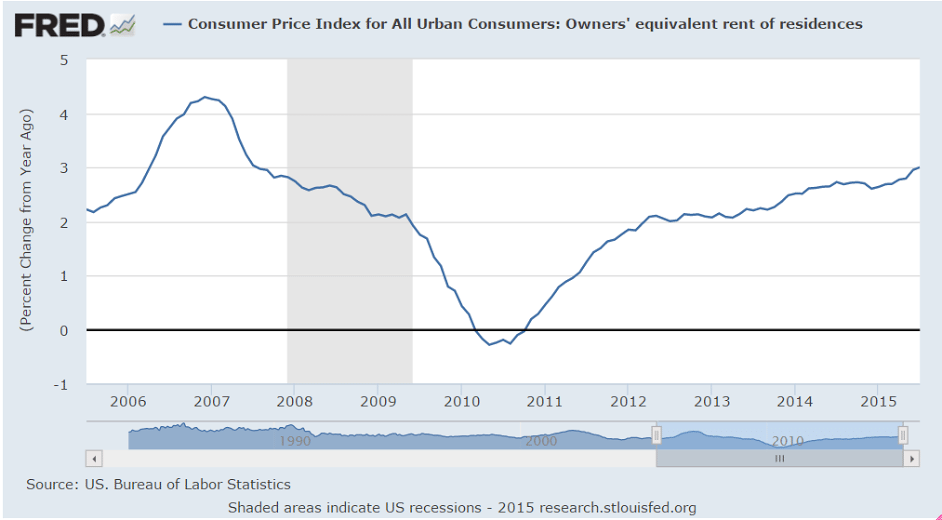 Remember a few years back when the mainstream was sounding the alarm over this?


And this about a year ago?