Mtg purchase apps, ADP, ISM
Looks like a dip anticipating lower gov fees a few weeks ago, followed by a blip up after, then returning to 'trend'
Still very low: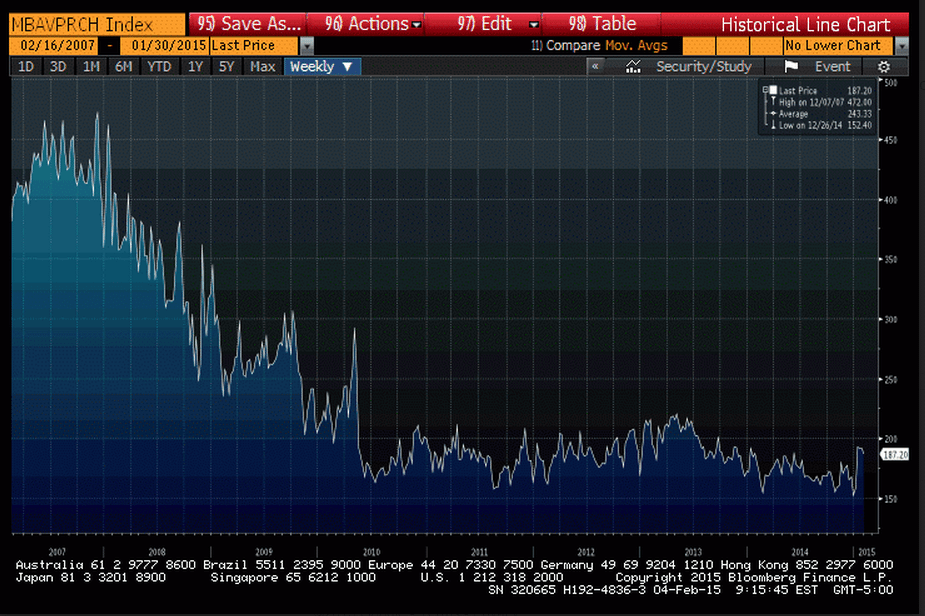 A bit lower than expected, but last month revised up a bit. Remember, this is a forecast of Friday's release, not actual hard numbers:
ADP Employment Report

Highlights
ADP sees slowing in job growth for January, to a lower-than-expected 213,000 for private payrolls vs the Econoday consensus for 220,000 and against ADP's upwardly revised 253,000 for December (initial estimate 241,000). Turning to government data, the corresponding Econoday consensus for Friday's jobs report is 229,000 vs December's 240,000.

The 213,000 increase for January is the lowest since September which was also 213,000. Increases in ADP's data from October to December averaged 257,000. By industries, the largest percentage gain for January comes from construction, up 0.3 percent or 18,000 jobs, and the lowest from manufacturing, up 0.1 percent or 14,000 jobs, and financial activities, also up 0.1 percent or 10,000 jobs.

Mark Zandi, chief economist of Moody's Analytics, said, "Employment posted another solid gain in January, although the pace of growth is slower than in recent months. Businesses in the energy and supplying industries are already scaling back payrolls in reaction to the collapse in oil prices, while industries benefiting from the lower prices have been slower to increase their hiring. All indications are that the job market will continue to improve in 2015."
ISM Non-Mfg Index

Recent History Of This Indicator
The composite index from the ISM non-manufacturing survey at 56.2 for December slowed substantially from November's unusually strong 59.3. Details showed particular slowing in business activity, down 7.2 points to 57.2, followed by slowing in new orders, down 2.5 points to 58.9. A plus was respectable strength for employment, down only 7 tenths to 56.0. Prices paid, reflecting lower fuel costs, fell 4.9 points to 49.5 for the first sub-50 reading since September 2009.