Nothing happening here.
Note from the chart that it's still near the lows of prior cycles.
From the National Federation of Independent Business (NFIB): NFIB SBET Sees Slight Bump in August

August's Optimism Index rose 0.4 points to 96.1 making it the second highest reading since October, 2007. …

NFIB owners increased employment by an average of 0.02 workers per firm in August (seasonally adjusted), the eleventh positive month in a row but basically a "zero" net gain. emphasis added

Hiring plans decreased to 10.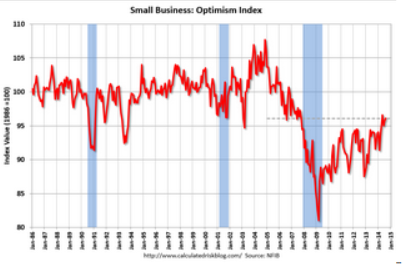 Full size image