---
ISM Manufacturing (Dec)
| | |
| --- | --- |
| Survey | 35.4 |
| Actual | 32.4 |
| Prior | 36.2 |
| Revised | n/a |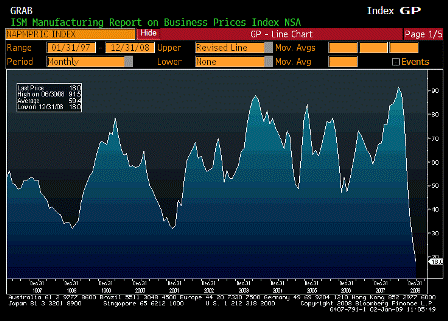 ISM Prices Paid (Dec)
| | |
| --- | --- |
| Survey | 20.0 |
| Actual | 18.0 |
| Prior | 25.5 |
| Revised | n/a |
 
Karim writes:
Weaker than expected across the board. Prices paid and production data imply further sharp falls in CPI and GDP in period ahead.
Export orders data and anecdotals on Europe and Asia imply the same for rest of G3.
Pretty much sums up what happened in December in general.

[top]