---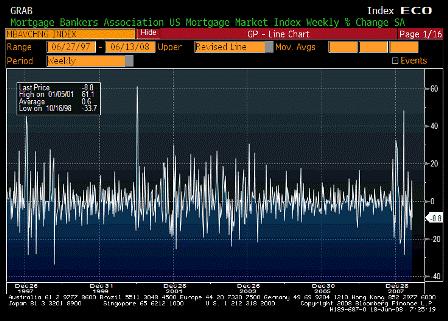 MBA Mortgage Applications (Jun 13)
| | |
| --- | --- |
| Survey | n/a |
| Actual | -8.8% |
| Prior | 10.9% |
| Revised | n/a |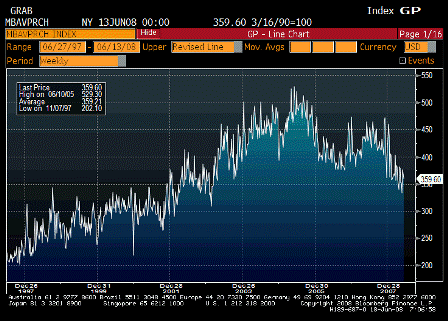 MBAVPRCH Index (Jun 13)
| | |
| --- | --- |
| Survey | n/a |
| Actual | 359.6 |
| Prior | 376.2 |
| Revised | n/a |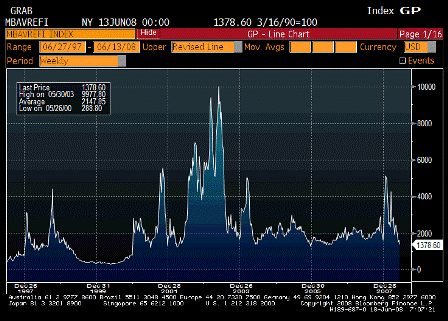 MBAVREFI Index (Jun 13)
| | |
| --- | --- |
| Survey | n/a |
| Actual | 1378.6 |
| Prior | 1622.1 |
| Revised | n/a |
Purchase applications remain in the 'new' range.
(Reuters) Applications for U.S. home mortgages dropped for the fourth week in the last five as soaring rates on standard, fixed-rate mortgages choked off refinancing opportunities, an industry group said on Wednesday.

The Mortgage Bankers Association said its seasonally adjusted index of mortgage application activity fell 8.7 percent to 508.4 in the week ended June 13.

The MBA's seasonally adjusted index of refinancing applications tumbled last week by 15 percent to 1,378.6 — its lowest since July 2006.

The gauge of loan requests for home purchases declined 4.3 percent to 360.2.

[top]