2008-04-03 US Economic Releases
Initial Jobless Claims (Mar 29)
| | |
| --- | --- |
| Survey | 366K |
| Actual | 407K |
| Prior | 366K |
| Revised | 369K |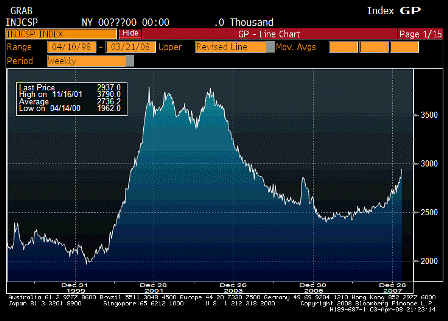 Continuing Claims (Mar 22)
| | |
| --- | --- |
| Survey | 2860K |
| Actual | 2937K |
| Prior | 2845K |
| Revised | 2840K |
This is now more in line with what's looked like near zero growth for the first quarter, and not much more is expected for Q2.
While fear of systemic risk has been reduced with the realization that the Fed/Tsy can -and probably will- simply 'write checks' as needed, that doesn't guarantee general weakness won't continue.
As Karim has been indicating, we may be near the end of rate cuts, but continued weakness could mean rates stay down for a 'considerable period.'
Also note markets aren't (yet) moving much on this.
With reduced systemic risk fears, these types of numbers are more 'rear view mirror' events than forward looking regarding the future of GDP growth.
In other words, data can be forward looking for some purposes, like systemic risk, and rear view mirror for other purposes, like GDP growth.
Also, Bernanke pointed to differences between now and the 1930's, leaving out the largest factor – the gold standard. With a fixed exchange rate policy the govt can't 'simply write checks' as that tends to result in outflows of gold/spikes in interest rates that can quickly lead to default/devaluation.
(The US shut down in the payments system in 1934 and reopened with a domestically suspended gold standard and federal deposit insurance.)
From Karim:
Initial claims spike from 369k to 407k; a labor department spokesman said that more claims were processed last week due to good Friday holiday the week before
So that means that the rate of change is exaggerated, but not the level (prior week should have been more than 369k
Continuing claims (which come out with a 1 week lag) rose from 2840k to 2937k; if to follow the same pattern as continuing claims, should rise again next week
Employment component of last non-mfg ISM will be important in shaping final estimates for payrolls tomorrow; right now looks to be about flat
---
ISM Non-Manf. Composite (Mar)
| | |
| --- | --- |
| Survey | 48.5 |
| Actual | 49.6 |
| Prior | 49.3 |
| Revised | n/a |

Nice bounce off the bottom though longer term still drifting lower.
---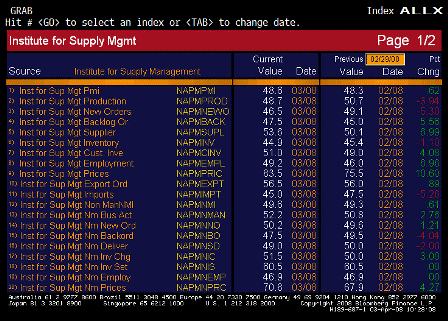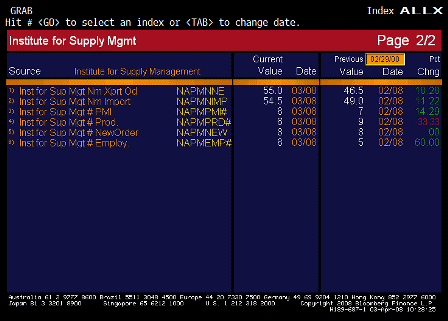 ISM TABLE (Mar)
From Karim:
Consolidating at contraction levels; employment unch at 46.9;
Yes, bodes for flat Q1 and probably a slow start to Q2.
inventory
sentiment remains poor (inventories too high)
Yes, meaning they are running relatively lean for a recession.
Also, new orders up some export orders up very sharply to 55, indicating continuing weakness for domestic demand but exports picking up the slack and then some.
Prices paid up and too high as well.
Weakness and higher prices continues.
(Crude now up on the day.)