ADP, Chicago PMI, Buy backs, Domestic product sales
Rolling over:

Highlights

ADP estimates that private payroll growth in Friday's employment report for July will rise 156,000. Econoday's consensus for this estimate was 155,000 and forecasters see actual private payrolls coming in at 160,000 in Friday's report vs 191,000 in June.
Highlights

In the lowest reading in 4-1/2 years, the Chicago PMI fell 5.3 points in July to 44.4. New orders sank deeper into contraction with employment falling into contraction for the first time in nearly two years and to its deepest level of contraction in nearly 10 years. Production is also at a 10-year low and given the indications on new orders, may weaken further in the reports to come. This sample was flying high as recently as February this year, holding for a year-and-a-half in the mid-60s area. Though conclusions are difficult to draw based on uncertainties over the make-up and size of Chicago's sample, the drop in this report could reflect trade-tension issues.
Share buybacks are expected to approach $1 trillion this year, according to Goldman Sachs.

Funding is coming from a record drawdown in cash as well as a rise in gross debt and leverage

.

Buybacks have exceded free cash flow for the first time since the financial crisis

.

U.S. companies are on pace to break another record for share repurchases in 2019, using a combination of cash and debt to push the total to close to $1 trillion.

For the first time since the financial crisis, companies have given back more to shareholders than they are making in cash net of capital expenditures and interest payments, or free cash flow, according to Goldman Sachs calculations.

The level of buybacks to free cash flow hit 104% for the 12 months ending in the first quarter of 2019, the first time that number has topped 100% during…
Some of the GDP charts the Fed is looking at: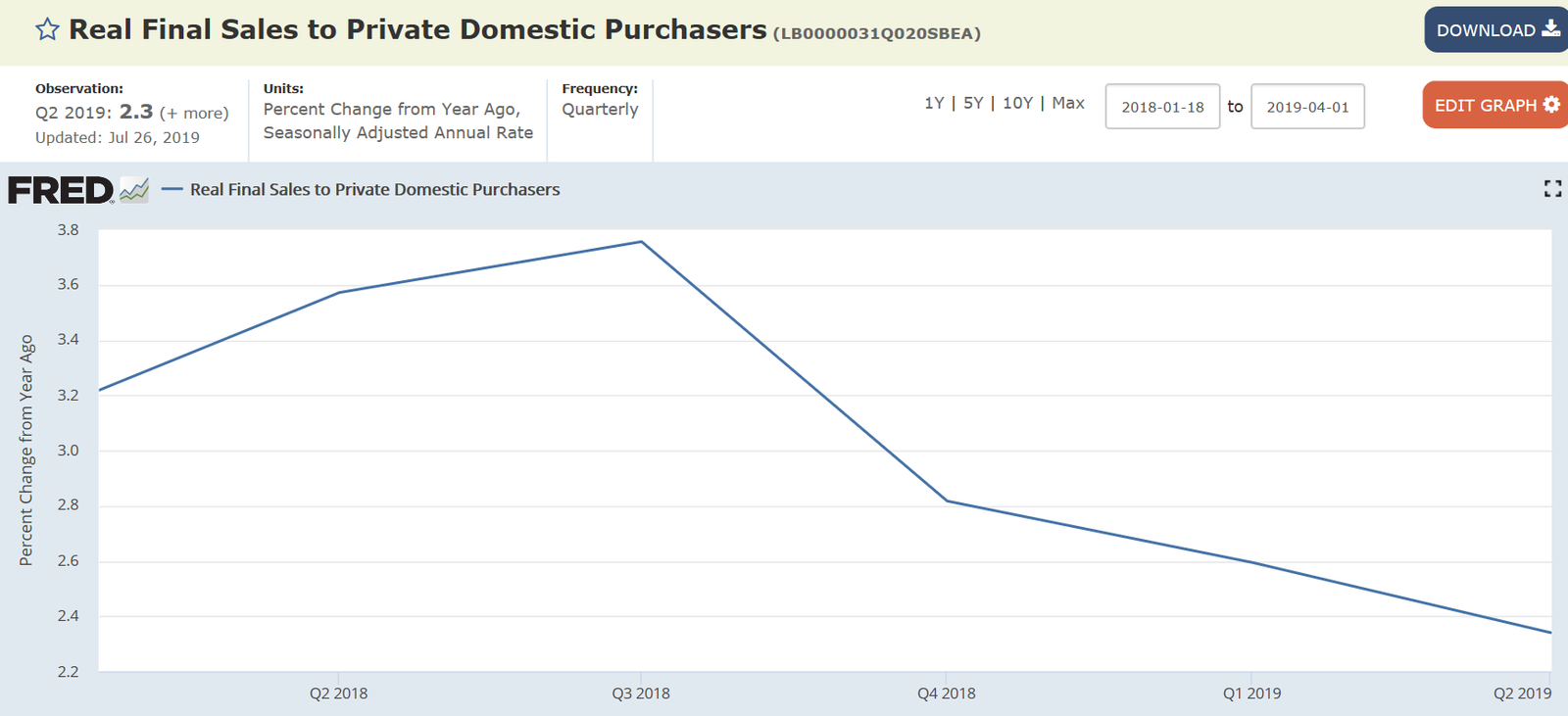 The red line is an approximation for stall speed: