Mtg apps, China exports, Oil
Continuing to be negative year over year: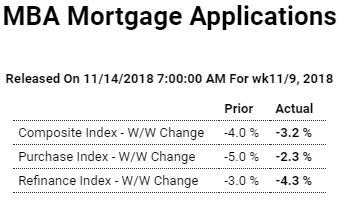 Highlights

Rising interest rates continue to dampen mortgage activity, with purchase applications for home mortgages falling a seasonally adjusted 2.3 percent in the November 9 week to the lowest level since February 2017 while refinancing applications decreased by 4.3 percent to the lowest level since December 2000. Unadjusted, purchase applications fell further into negative year-on-year territory and were 3 percent below their level in the same week last year. The refinance share of mortgage activity rose 0.3 percentage points from the prior week to 39.4 percent. Climbing to the highest level since 2010, the average interest rate on 30-year fixed rate conforming mortgages ($453,100 or less) was up 2 basis points from the prior week to 5.17 percent.
Trade issues taking their toll and bringing down the entire global economy:
Sometimes the headlines make no sense to me vs the data…