---
Consumer Price Index MoM (Jan)
| | |
| --- | --- |
| Survey | 0.3% |
| Actual | 0.3% |
| Prior | -0.7% |
| Revised | -0.8% |
 
Karim writes:
CPI boosted by OER and tobacco.

m/m .282% headline and .177% core; y/y 0.0% headline and 1.7% core
Mthly data boosted by OER (up 0.3%)-likely reflects decline in fuel/utility prices in recent months (which boosts 'owners equivalent rent')
Mirroring PPI yesterday, tobacco prices up 0.8%
Core PCE, which has less weight in housing, has been negative for 3mths in a row. On y/y basis, core inflation likely headed to 1% by mid-year (headline inflation may decline by -1% y/y by mid-year before converging to core in H2).
CPI Ex Food and Energy MoM (Jan)
| | |
| --- | --- |
| Survey | 0.1% |
| Actual | 0.2% |
| Prior | 0.0% |
| Revised | n/a |
Consumer Price Index YoY (Jan)
| | |
| --- | --- |
| Survey | -0.1% |
| Actual | 0.0% |
| Prior | 0.1% |
| Revised | n/a |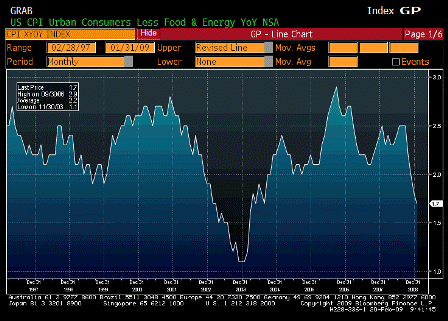 CPI Ex Food and Energy YoY (Jan)
| | |
| --- | --- |
| Survey | 1.5% |
| Actual | 1.7% |
| Prior | 1.8% |
| Revised | n/a |
Consumer Price Index NSA (Jan)
| | |
| --- | --- |
| Survey | 211.081 |
| Actual | 211.143 |
| Prior | 210.228 |
| Revised | n/a |
CPI Core Index SA (Jan)
| | |
| --- | --- |
| Survey | n/a |
| Actual | 217.265 |
| Prior | 216.816 |
| Revised | 216.882 |
Consumer Price Index TABLE 1 (Jan)
Consumer Price Index TABLE 2 (Jan)
Consumer Price Index TABLE 3 (Jan)

[top]