Mtg purchase apps, Durable goods orders, Pending home sales, Rental vacancy, International trade, Trump threat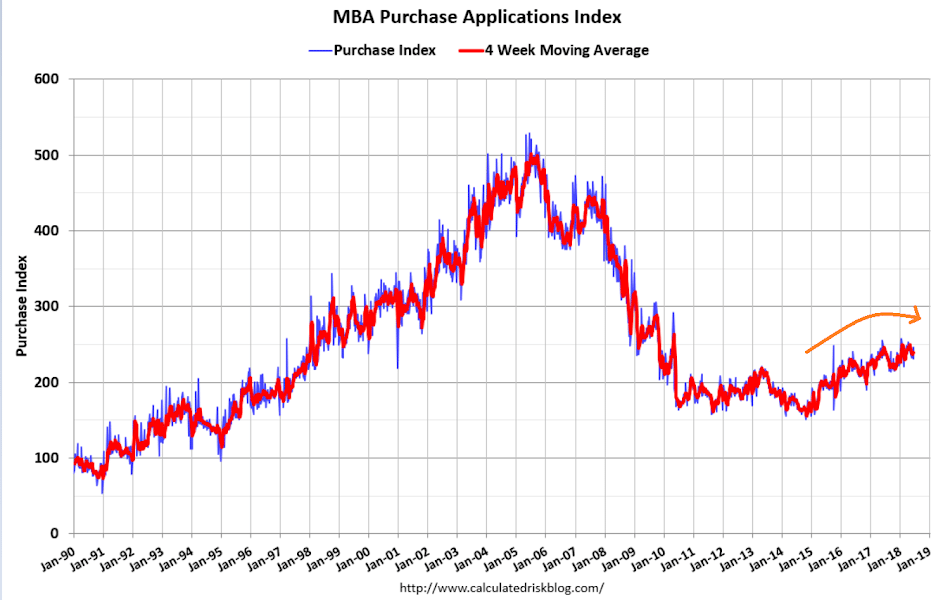 Highlights

Disruption tied to a fire at an auto supplier not only pulled down the previously released manufacturing component of the industrial production report but it also helped pull down durable goods orders in May which fell an as-expected 0.6 percent. Vehicle orders fell 4.2 percent in the month with vehicle shipments down 4.4 percent. Civilian aircraft orders, which had been very strong earlier in the year, fell for a second month, down 7.0 percent following April's 30.3 percent downswing. Excluding vehicles and civilian aircraft as well as all other transportation equipment, orders were still lower, down 0.3 percent to barely make Econoday's consensus range.

Also barely making the consensus range are core capital goods (nondefense ex-aircraft) which fell 0.2 percent though here an upward revision to April, to a 2.3 percent surge and more than double the initial reading, is a major offset. Shipments for this reading, which are inputs into business investment for second-quarter GDP, are mixed, down 0.1 percent in May but with April revised 1 tenth higher to an even stronger 1.0 percent gain.

Turning to tariff-exposed readings, orders for primary metals slipped 0.4 percent following, however, April's upward revised 2.4 percent gain and March's 4.7 percent spike, with fabrications, which are indirectly affected by tariffs, down 1.2 percent following gains of 3.3 and 1.3 percent in the prior two months. The May declines for these two components, which make up more than 20 percent of total durable orders, hint at a cool down following a buying surge immediately following the tariffs
Yet another housing indicator slumping:

Highlights

The resale market has been flat and may be about, despite the strength for new home sales, to turn lower. The pending home sales index for May fell 0.5 percent to just make the low end of Econoday's consensus range. Weakness in the report is concentrated in the South which is by far the biggest housing region and where contract signings for resales have fallen 3.5 and 1.0 percent the last two reports. These results underscore recent home-price updates including yesterday's Case-Shiller report that point to ebbing price appreciation for existing homes.
Pending home sales decreased modestly in May and have now fallen on an annualized basis for the fifth straight month, according to the National Association of Realtors®.

Read more at http://www.calculatedriskblog.com/#IAob0xYYZsAR5XfE.99


Smaller deficit than expected, but, again, signs of volatility due to timing and expectations of tariffs, and the drop in consumer imports is most often due to a general drop in US consumer spending, and not an increase in purchases of domestically produced goods and services. And most recently oil prices have moved higher:

Highlights

Forget about tariffs and trade wars. Exports in May surged a convincing 2.1 percent to pull down the nation's goods deficit to a much lower-than-expected $64.8 billion in May. The results will add further to second-quarter GDP forecasts where high-end estimates were already approaching 5 percent.

The export gain is led by a 12.8 percent monthly jump in foods & feeds and includes a 3.7 percent gain for capital goods which are the nation's strongest exports. And consumer goods also rose, up 3.2 percent. The overall gain comes despite a 3.1 percent decline in industrial supplies, a component where swings in oil prices dominate.

Imports were nearly neutral in May, up only 0.2 percent following a 0.4 percent decline in April. Auto imports fell 1.2 percent in the month with consumer imports, which is the Achilles heel of U.S. trade, down 1.0 percent. Imports of industrial supplies, again reflecting oil prices, fell 0.7 percent. A category that shows a gain, and here perhaps a welcome one pointing to rising business investment, is imports of capital goods which jumped 3.4 percent.

This is a very healthy report and it may offer a signpost of the nation's trade performance going into a summer of cross-border discontent.